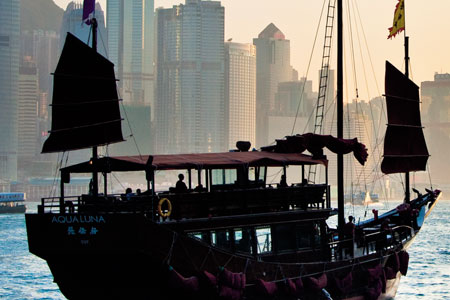 The Many Faces of Hong Kong
Issue 89 February 2012
From the green slopes of Victoria Peak to the buzzing streets of Kowloon, the Hollywood of the East has something for everyone. Nabeel Shariff explores how to get the best out of a trip to Hong Kong.
When I was a child I often wondered what it would be like to land a plane at Kai Tak airport. The sharp right banking turns at low altitudes across Victoria Harbour were the stuff of legend, especially on a 1993 version of Flight Sim 5. I always thought I could wave at the locals from my porthole window as they hung their washing; the heat from the Rolls Royce engines simmering on top of their high rise flats. As it turns out I didn't even get to experience the landing, let alone fly it myself, as the old Hong Kong approach is now firmly retired. The plush new Chep Lap Kok terminal on Lantau is exactly what I anticipated (sleek, modern, efficient), if far removed from my flight simulator dreams.
So here I was, over a decade after I initially had my heart set on visiting the capital of the Orient. Split into four key areas, namely Hong Kong Island, Kowloon, the New Territories and the Outlying Islands, Hong Kong is one of only two Special Administrative Republics (SARs) of China, the other being Macau which is seemingly hell-bent on emulating Las Vegas' gambling reputation. Prior to the agreed hand-over back to China, Hong Kong was firmly in the hands of the British, and if you're looking for evidence they were here, then Hong Kong Island is the best place to start.
Share this


Link to this
Printer Friendly