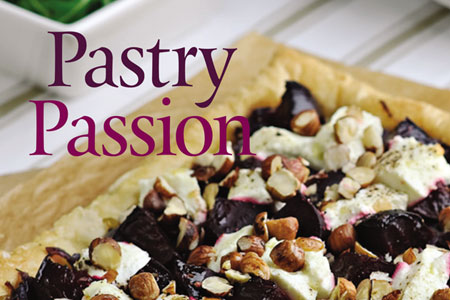 Pastry Passion
Issue 89 February 2012
Not much can compete with the taste of perfectly risen puff pastry or the incredibly mouth watering crumble of short crust. Rehana Jeraj brings you a selection of pastry dishes to dine for.
Pear Tarts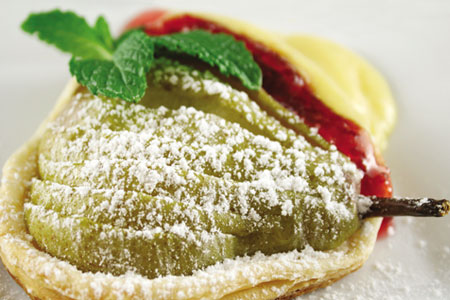 Ingredients
2 large ripe pears
150g butter puff pastry, rolled to about ¹⁄³ cm thick
1 egg yolk
A little icing sugar for dusting
For the poaching liquid
250g granulated sugar
1 cinnamon stick, 2-3cm in length
4 cloves
A couple of strips of lemon rind
Method
1. If you are using very ripe pears, then there is no need to poach them, but if they're a little on the firm side, then poach them a little, and you can save the poaching
liquid to poach fruits another time—or even drink it.
2. Preheat the oven to 200°C. If your pears are on the firm side, cut in half, leave the stalks on, and remove the core with an apple corer or a small, sharp knife.
3. Put enough water in a saucepan to cover the pears, add the rest of the ingredients and bring to the boil stirring until the sugar has dissolved.
4. Add the pears and simmer them for about 30 minutes, or until the pears feel tender when you insert the point of a small knife.
5. Remove the pears from the liquid and leave to cool. Alternatively, leave to cool in the liquid.
6. Slice the pears vertically about six times, leaving the stalks on.
7. Lay the puff pastry on a baking tray and place the pears on top about eight centimetres apart. Push the pears down to flatten them, and then cut around them leaving a one centimetre border of pastry all the way around. Brush the border with egg yolk.
8. Bake the tarts for about 20-25 minutes until the pastry is golden and the pears have coloured a little.
9. Dust with a little icing sugar.
10. Serve with custard and fruit compote and lightly whipped double cream.
To read more mouth-watering recipes in our Food feature, as well as gain access to exclusive videos, plus behind the scenes footage and more interactive content, log on to http://digital.emel.com to get your digital issue today.
Share this


Link to this
Printer Friendly