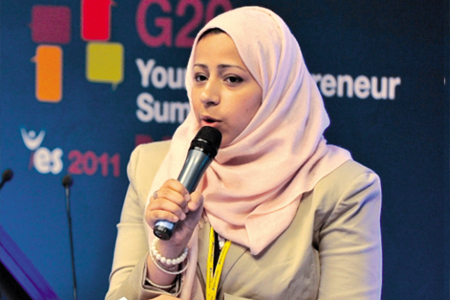 Painting the Desert Green
Issue 90 March 2012
Three young college girls realised they had a common passion for the environment. Working together, they set up an social enterprise to help companies in their native Saudi Arabia to become more green.
It would be fair to assume that environmental initiatives are usually left to the global elite, who can afford the luxury of investing in a sustainable future. It would be even safer to assume that a country that claims to have the second largest oil reserves in the world would have no urge to indulge in environmental initiatives. However, as with many of the grassroots movements around the world, there is a select group of young people who are working to change this in their country of Saudi Arabia.
Naqa'a was founded by Norah Maghraby, Mona Othman and Muna Alamer whilst they were at college. All three were passionate about environmental issues and the natural world around them, and were involved in small recycling or awareness projects. Once they identified that there was a genuine need for greener practices within the community, they launched Naqa'a as a social environmental group and then registered it as a formal company. Rather than functioning as a general environmental campaign group, they have streamlined their activities to focus on encouraging businesses to go green. This is partly because Naqa'a acknowledges the vast influence that businesses hold in society today, but also because businesses were the most receptive to the work of Naqa'a. In a recent survey of the public and private sector in Saudi Arabia, conducted by the National Commercial Bank, it was found that 52% of respondents feel that their organisation needs to focus their corporate social responsibility efforts on environmental issues, which illustrates the real hunger for the work of Naqa'a in Saudi Arabia.
Share this


Link to this
Printer Friendly