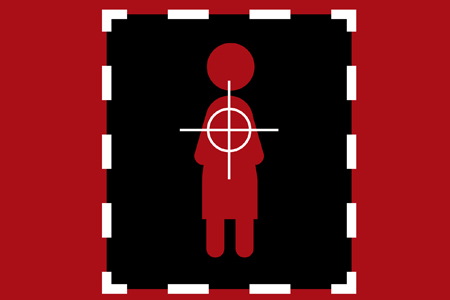 Striving for Our Sisters
Issue 90 March 2012
Islam has championed the rights of women since earliest times, with the Prophet Muhammad leading the way. But today Muslim women are amongst the most disenfranchised. As International Women's Day approaches, Ali Khimji and Mashaal Mir, meet with inspirational women who are supporting and empowering their fellow sisters to overcome some of the worst oppressions.
War
Zainab Salbi
Women for Women International
It is said that war can bring out not only the worst acts in humanity, but also the best acts in people. Zainab Salbi is an excellent example of the latter. She learnt about the horrific events happening in the rape and concentration camps in Bosnia during the war that broke out in 1992, and this inspired her to act. "I knew I had to do something, not because I knew anything about Bosnia, for I didn't, but because I know that it is at times like these that we need to reach out to each other as human beings," she says.
This motivation to help those women in a far-away land, laid the foundations for Women for Women International, a grassroots humanitarian and development organisation that helps women survivors of war rebuild their lives. Since Zainab formally founded it in 1993, the organisation has helped 316,000 women access social and economic opportunities through training and education programmes.
Poverty
Samina Haq
Islamic Relief
Poverty is one of the greatest threats to women worldwide. 70 million girls are deprived of a basic education. A girl brought up in poverty is likely to be married early, and face early pregnancy. If she survives the birth, then she faces other threats such as sex trafficking and HIV exposure. Her children are more likely to be caught in the poverty trap, and the cycle will be repeated.
Aid agency, Islamic Relief, works globally to alleviate poverty, with many of its programmes focusing on women-headed households where male figures are absent either because of conflict, or natural disaster. The charity helps such women in a number of ways, from emergency assistance to long term empowerment programmes, "Empowerment breaks the dependency on aid," says Samina Haq, Head of Programmes at Islamic Relief UK.
Such programmes at IR include microfinance initiatives which enable women to start small businesses, capacity building schemes to increase their employment skills, and the provision of childcare to enable women to work.
HIV/AIDS
Fatima Khanum
International HIV Fund
"We have to address the core roots of HIV and AIDS as opposed to just reacting to the issue," says Fatima Khanum, forcefully. As operational manager at the International HIV Fund, she has a varied role, but sees lack of awareness as a massive issue, "Women often become victims of stigmatisation and discrimination because people do not know enough." Fatima believes that one solution that will help win the battle against HIV and AIDS is empowering women. "There is a quote from Ibn Al-Qayyim that comes to mind, 'Women are one half of society which gives birth to the other half, so it is as if they are the entire society'," she says. "Female empowerment and participation is critical when addressing any global issue." By doing so," states Fatima, "the women can become mobilisers within their own community and help spread the awareness. This will eventually create a domino effect."
Sexual Violence
Sidra Humayun
WAR Against Rape
Sidra Humayun works as a coordinator for WAR Against Rape, an NGO based in Lahore, which works with victims of rape directly, as well as campaigning and lobbying to ensure perpetrators are brought to justice. "Breaking a cycle of violence is not easy in a male-dominated society like Pakistan," she says. "I was once trapped in this cycle, making sacrifices and being forced to live a life that was set by someone else, but I managed to escape. I realised that many women in Pakistan don't have the courage to do so, so I joined WAR to help propagate the message that life is beautiful and tolerating violence is wrong."
In Pakistan, women who are subject to sexual violence are led to believe they have done something wrong and are left feeling isolated from society's boycott. Sidra steps in to save them from the ensuing trauma and shock by providing the necessary attention and consideration, which will hopefully end up with them feeling confident and able to face society once again. But she does come up against many barriers in her role. One of them is the police, who are either easy to bribe and will then let the perpetrator get away without punishment, or even more shockingly, think that when a woman has been sexually abused once, she is available for everyone. Sidra has tried to fight this by running advocacy, training, and awareness sessions in an attempt to sensitise them and ensure that the police treat them as victims and show them consideration.
Acid Violence
Monira Rahman
Acid Survivors Foundation
In 1997, Monira Rahman met two survivors of acid attacks and found herself shocked and horrified at their plight. "One was 17 years old, and half of her face was very badly disfigured, with her nose and eyes both severely affected," she says. "But she was full of confidence, and once she began to talk about her situation, she truly believed that she was still beautiful." It is the strength of that young girl that Monira has thrived on since starting work for the Acid Survivors Foundation in Bangladesh and becoming its Executive Director.
At the time, acid violence was still a very hidden issue in Bangladesh and many people were not aware of the social ramifications of the problem. In fact, in the early days of ASF, Monira and her team approached the government for them to draw up legislation to prevent acid violence, but the policymakers insisted that it was a private problem between a young girl and a man, because many acid violence attacks occur when females reject the advances of a male within the community.
Share this


Link to this
Printer Friendly