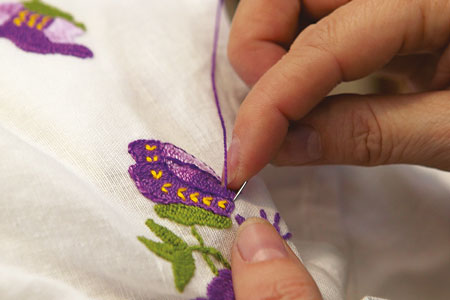 A Crafted Heritage
Issue 91 April 2012
The rich history of Bosnia's craft has played a large part in the strength of cultural identity in the region. Fatema Zehra explores the fascinating application of traditional skills to modern needs, helping these crafts live on.
The diversity of local costumes and styles has always played a large part in the rich tapestry of cultures within Bosnia, and the mesh of these cultures contributes to the strength of Bosnian identity today. A person's attire once varied from one village to the next and would allow them to be identified and associated with a certain village, social class, and wealth tier. The adornment of local costumes has been seen far less in the last century, but many of the techniques used to decorate and produce the fabrics remain.
The war meant that many people migrated from smaller towns and villages towards larger hubs, where communities were more populated. It fell to the womenfolk to migrate to unknown towns, whilst the men were away at war. Post-war humanitarian associations were established in Bosnia to help these women overcome their trauma. Strategies were developed to help them provide financially for themselves and their families. Organisations such as the Duga (Rainbow) Association and Žene za Žene (Women for Women) work towards achieving this goal, empowering the local women to use the various traditional skills that had outlived the war. As well as financially enabling the women, craftwork also provided a therapeutic outlet, helping them regain more memories of a tranquil past before the conflict. Some of the skills utilised in the craft workshops included weaving, embroidery and knitting. The women gather from all over the area, and all are welcome regardless of religious distinctions. As they worked together to produce beautiful items using their individual methods of sewing and embroidery, they were able to learn and work to renew their traditions, whilst creating elegant items that showcased their expert craftsmanship.
Read more.
With special thanks to UNESCO and Studio Norbert Heyl for the use of the publication 'Traditional Arts and Crafts in Bosnia and Herzegovina'.
ORGANISATIONS
www.womenforwomen.org
www.bhcrafts.org
Share this


Link to this
Printer Friendly