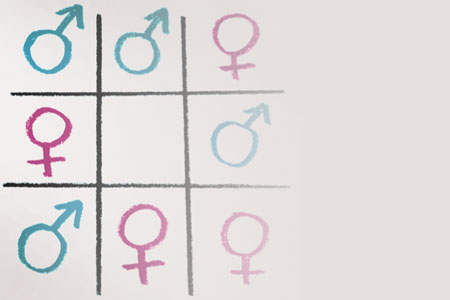 Between the Extremes
Issue 92 May 2012
The Qur'an describes the relationship between men and women as complementary, not oppressive. We need to uplift each other and aim for higher standards, otherwise both will suffer.

Regular readers will know that one of my interests is writing about Muslim women. The joys, the despairs, the challenges, and the triumphs. There is never a moment in the media or in our communities when the subject of women loses its currency. Simply sharing experiences and conveying them to a wider audience who may be unaware of what it is like to be a Muslim woman and how we feel are actions that in themselves can be ground breaking.

There is no doubt that we need to improve urgently the difficult and discriminatory situation facing many Muslim women. However, for me, the subject of Muslim women has an ever-wider importance than just highlighting our plight and offering insights into how we can improve our situation. This is because work on improving the situation of Muslim women (as part of the work towards improving the real-life situation of women in general) challenges us to think as Muslims about much bigger questions which impact our very understanding of human society, faith and the nature of the human being. What is the nature of equality? What kind of society does Islam envisage? And why have we not achieved that? Why are our societies so at variance with Islam's aspirations? What does it mean to be a Muslim woman, and by extension, what does it mean to be a Muslim man? What does it mean to be a real human being?

I feel a constant pressing need in any discussion around Muslim women to state what ought to be obvious: this discussion is not for women only, and this discussion does not affect women only. Muslim men: you need to step up and get involved. What is the point of women talking only to women about the issues affecting women? Whether it is about discrimination, violence or marriage, women cannot fix the issues alone; it takes two to tango.

A change to the status and situation of women de facto means a change to the situation of men too—but that is a good thing. If women are suffering violence from men, that means some men are perpetrating violence, which is bad for men too. And it will not only be women being abused and attacked; anyone seen as weak or less powerful will also suffer, which includes men. And of course, there is the trauma of the children who witness the violence.

Before you think I am blaming the world's woes on men, stop! Muslim women are not the only ones suffering from discrimination and inequality. For every stereotype held against a Muslim woman that she must be brainwashed, there is one that holds that Muslim men are brainwashing them. For every monolithic pronouncement that Muslim women are weak and submissive, one paints all Muslim men as violent, uncouth, even capable of mass terror. Even in the relatively mundane sphere of marriage, men must live up to a cultural gold standard of having to be virile, hunter-gatherer, undomesticated, unemotional oafs with no sense of tenderness or intimacy with their wives or children.

We need to change the burden of stereotypes on men, and Muslim writers are trying to do so. But we need to hear more voices from men. With women, the typical narrative is the 'misery memoir', which narrates their story of liberation from an oppressive family or culture. For Muslim men, the typical narrative foisted on them and which forms the watermark of the public discussion about them is to fall into extremist or terrorist ways, and then through an epiphany find liberation into more reasonable ideologies. This narrative of Muslim men has become as entrenched—and as unenlightening and stereotyped—as the 'misery memoir' genre for Muslim women.

So come on Muslim men, let's hear it from you. What are the pressures you face? What would you like to say about the reality of being a Muslim man? And how can we work together to make our community and society a better place?

Shelina is the author of Love in a Headscarf, and writes a blog at www.spirit21.co.uk
Share this


Link to this
Printer Friendly