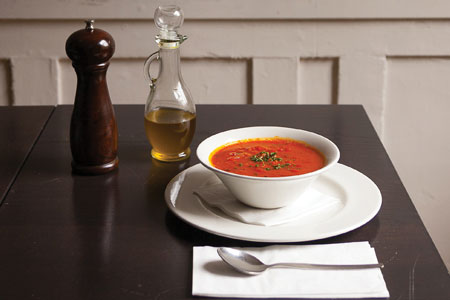 The VegTable
Issue 92 May 2012
Vegetarian food needn't be dull. Try this selection of exotic and interesting recipes for a flavour–packed alternative to the myth of meat–free food.
PHOTOGRAPHY Steven Lawson
Words Fatema Zehra
Tomato yellow split pea and cardamom soup

Ingredients
1 onion halved and thinly sliced
3 cloves garlic thinly sliced
1 tbsp cumin
1 tbsp turmeric
1 tsp cayenne pepper
20 fresh curry leaves
25-30 cardamom pods smashed open, seeds removed and ground or 1 tbsp pre-ground cardamom
1 tbsp Demerara/brown sugar
1200g chopped tomatoes (3 tins)
150g yellow split peas washed & drained
1200ml water

Method
Sauté the onions over a medium heat with a splash of vegetable oil until they turn golden brown. Add garlic, curry leaves and spices and cook for a further five minutes.
Add the sugar, tomatoes, split peas and water whilst stirring occasionally and let the soup come to a gentle simmer.
Turning the heat down slightly but still allowing to simmer, cook for 30-45 minutes until the split peas have softened, adding additional water if the soup starts to become too thick.
This soup is great served with some warm naan bread.
Curried chickpea and butternut squash filo triangle

Ingredients
400g cooked chickpeas
500g butternut squash (sweet potato and pumpkin are also good)
5g spinach roughly chopped
1 small onion, diced
2 cloves garlic, crushed
1cm ginger, peeled and finely chopped
1 tbsp sultanas
1 tbsp curry powder
2 tbsp flaked almonds, toasted
2 tbsp freshly chopped coriander
1 packet filo pastry
4 tbsp melted butter
Salt & pepper to taste

Method
Dice butternut squash into approximately two centimetre cubes, lightly oil and roast at 180°c for approximately 25 minutes or until cooked through.
Sauté the diced onion in a splash of vegetable oil over a medium heat for five minutes, add ginger, crushed garlic, curry powder and cook for a further five minutes.
Add sultanas, cooked chickpeas, spinach, butternut squash, salt and pepper, and cook for a further 10 minutes.
Remove from heat and add the flaked almonds and chopped coriander, taste and adjust seasoning if necessary.
Unroll filo pastry and divide in half lengthwise, cover with a damp tea towel. Using a pastry brush, brush a piece of filo with butter or soy cream, put another piece of pastry over the first one, brush again, put a heaped tablespoon of filling at one end of pastry and fold over forming either a triangle or a rectangle, fold over until pastry forms a parcel.
Brush the top of the pastry with butter or soy cream and sprinkle with raw flaked almonds.
Repeat this process until you have used up all filling and pastry.
Bake at 180°c for 20 minutes until golden, then serve with yoghurt or chutney.

To read more mouth-watering recipes in our Food feature, as well as gain access to exclusive videos, plus behind the scenes footage and more interactive content, log on to http://digital.emel.com to get your digital issue today.
Share this


Link to this
Printer Friendly