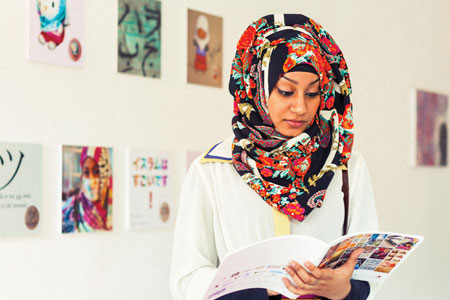 Think Prints
Issue 92 May 2012
Patterns and prints can sometimes seem daunting, but the good news is that there is a print out there to suit everyone.
PHOTOGRAPHY BILAL YUSUF
STYLIST FATEMA ZEHRA
Shoot location Mica Gallery, London
From fun, bright and colourful to pale and stylised, there are numerous ways to wear prints and patterns. Explore the impulse with these popular trending prints.

Scarf Prints
Introduce prints into your wardrobe with this sophisticated approach to patterns. Seek out those hazy greys, lilacs and blues and delve into a world of repeating prints with an interesting vintage take. When worn combined with tailored pieces, scarf prints can create a classy feel and can even work for formal work attire.

Candy Collective
For a more delicate take on prints, head for sweet candy colours, perhaps with a hue of pale and interesting. Opt for ditzy patterns and complement delicious shades of caramel and yellow with more neutral tones. Candy prints are great for a casual look paired with a block coloured skirt and pumps. Adapt an outfit for a more formal look by adding tailored pieces such as a shirt, blazer or skirt in a block candy colour.
To see more of our Fashion feature log on to http://digital.emel.com to get your digital issue today.
Mens Clothing: https://www.hellenwoody.com/
Share this


Link to this
Printer Friendly