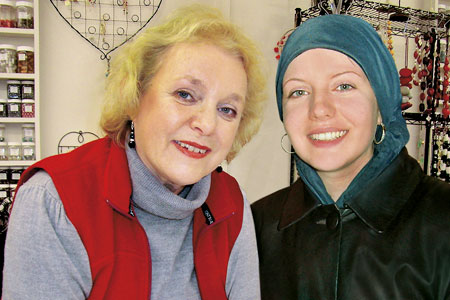 An Interfaith Relationship
Issue 92 May 2012
Faced with a bright and inquisitive daughter, Kathryn has always encouraged Anisa to be open-minded, and learn about other peoples and cultures.

Anisa
My mother is my best friend. She is also the reason I am a Muslim. Right from the early years, she taught me to believe in God and to graciously accept whatever He decreed for me—good or bad. When I was a little girl, my mother made sure I had a strong connection to the stories of the Bible, and on visits to the local library she would always make sure we took out religious books as well as the usual children's stories. Growing up, I always felt a special bond and connection to the Judeo-Christian tradition. Among the personalities of the Bible, I was always drawn to the characters of the Old Testament, and my heroes growing up were Moses, Abraham, Queen Esther, and Joseph.

My mother not only wanted me to know and feel connected to my own faith background, but she also wanted me to understand and respect the faiths of others. She actively encouraged me to learn and interact with peoples of other faiths. As a child, I went on trips to Hindu temples and Sikh gurdwaras. I learnt about Buddhism from Chinese friends, but when I encountered Islam, it left a permanent impression on me. Mum had taught me that to believe in God is to help others, no matter who or where they were. During the war in Bosnia, Mum helped raise money for boxes of essential items for Bosnian babies. Some people objected to my mother helping Muslims, but she did not care; she even made sure that the baby milk formula was halal.
Kathryn
Claire, as Anisa is still known in the family, was baptised into the Christian faith when she was three months old. She was a very intelligent child, always questioning, always eager for more knowledge. I have always loved books and reading, and fostered the same love in Claire, enrolling her at the local library and encouraging her to read extensively. She liked fiction, but the stories of the Old Testament seemed to interest her more, stories about Moses and Noah, and her particular favourite, the story of Esther.

When Claire was 10 years old she became fascinated with India. She thought that Indian culture and traditions were very exotic and far more colourful than her own origins. She started to research all aspects of Indian life, including the many religions, taking books out of the library and reading them avidly. Some of her closest friends at school were from within the Indian community. When she was 12, she announced that she was thinking of becoming a Sikh.
Although born into a Protestant family, Claire was educated at Roman Catholic schools. Research into our family ancestry led us to discover possible Jewish links through the surnames of several of our ancestors, and this prompted us to visit the Jewish Museum in Manchester to find out more about Jewish culture and traditions.
Share this


Link to this
Printer Friendly