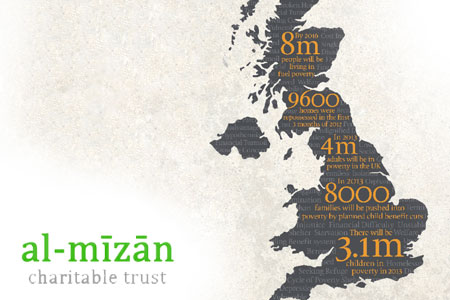 Charity Begins At Home
Issue 93 June 2012
While many see poverty as something that only happens in the third world, statistics show that it is very much present in the UK. One organisation fighting to redress the balance is the Al-Mizan Charitable Trust.
Under the UK government's plan to reform the welfare system, as many as 120,000 families are set to lose free school meals for their children. Free school meals provide vital financial support for low-income families, and for almost a third of children, school lunch is their main meal of the day. What these shocking statistics portray is the reality of living at the subsistence level in the UK. "Many of us see poverty as something that only happens in the third world, but there are people who go through as difficult a struggle here in this country," says Mohammed Mamdani, Founder and Director of the Al-Mizan Charitable Trust. He launched Al-Mizan two years ago, with the aim of providing direct financial support to disadvantaged families undergoing economic hardship, regardless of their faith, culture or background. "We hear countless stories of families who are restricted to one meal a day, or who cannot afford warm clothes during the winter months," he says.

"We define poverty as being unable to maintain a dignified existence and the means to actively participate in civic society," says Mohammed. The direct financial support that is offered by Al-Mizan comes through grants and interest-free loans up to £500. While other grant-funding bodies provide monthly payments, Al-Mizan has restrictions that beneficiaries can only apply once a year. "We're very keen on providing sustainable support, that doesn't forces beneficiaries to rely on continuous donations," says Mohammed. "Feeding someone will only solve their short-term problems, but giving them access to wider society will help them gain a better skill-set."

"Sometimes the grant can be for basic household goods, such as a cooker or a fridge, so that the family can feed themselves, or it could be to pay for a vocational qualification if the person is looking to improve their job prospects," says Mohammed. All applications go through a rigorous assessment to ensure that the beneficiaries are those who are most in need of the grant. The organisation ensures that they are receiving all the state benefits available to them, and also takes references from people in authority.

The beneficiaries of Al-Mizan's grants and loans can range from single parents, the disabled, women fleeing domestic violence, ex-offenders, the elderly, and young people. An example of a beneficiary that Al-Mizan has supported recently is Soraya, a 31-year-old who lives in North East England. She grew up in a large family, and as the youngest child, she often suffered abuse from her elder siblings, and was treated like a slave having to cook and clean for everyone. Having lost all her self-esteem and with no will to live, she began to blame herself for her misfortune. After gaining the courage to leave home, she found it very difficult to live independently. The council flat Soraya was given had no furniture in it, so she had to sleep on the hard floor every night. She applied to Al-Mizan for a grant, and was awarded £300 for a course in business administration to help her find work and get through her difficulties.

In the UK, the concept of a charitable trust is very much one that has been established with a large endowment, which is a significant sum of money that the trust can then distribute to worthy causes. Unfortunately, Al-Mizan has no such source of income and has to rely on donations from the British Muslim community. But as the recession seems to hit more and more people, donations to the Trust are drying up. "Each month, we're having to reject worthy applications because our funds simply don't stretch that far," says Mohammed. "It's very heart-wrenching to have to turn people away like this." Furthermore, Al-Mizan takes no administration fee from donations, ensuring that 100 per cent goes directly to beneficiaries.

Mohammed himself is somewhat of a serial social entrepreneur, having set up Muslim Youth Helpline and Ansar Youth Project previously. He cites the example of the Prophet Muhammad in his work, drawing on the Prophet's fight for social justice and his dedication in serving those who were needy and deprived in his local community.
The difficulty in soliciting donations has led Mohammed to seek out innovative forms of funding, and one that will be launched soon is a Zakat Fund, exclusively supporting serving Muslim prisoners with mental health conditions, ex-offenders through their rehabilitation in the community, and the families of prisoners where the main breadwinner has been taken into custody. "We sincerely believe in giving people a second chance and through active rehabilitation, we inevitably support our communities to be a safer place for everyone," he says. "Upon release, prisoners are given £46 which is supposed to last three weeks until any benefits come through. That works out at £2.19 per day, which is supposed to cover food, rent and toiletries, and those are just the basic essentials."

While some would argue that international aid projects serve a better use, if we continue to have a weak Muslim community in this country, then we won't have the economic ability to support international aid projects. And while Mohammed certainly leads a noble cause, that hasn't stopped him coming up against criticism: "Someone once had the audacity to say that poor people don't need heating, and that they should put on an extra jumper and live through cold showers. Try telling that to your four-year-old daughter."

For more information about Al-Mizan Charitable Trust, and to sign up for a monthly donation, please visit:
www.almizantrust.org.uk
Share this


Link to this
Printer Friendly