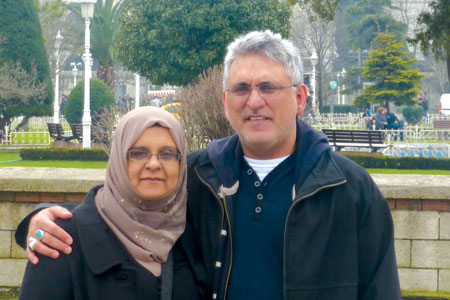 The Best of Friends
Issue 93 June 2012
Having been married for 27 years, Yasmin and Firoz have built their strong relationship on friendship and honesty.

Yasmin
Back in August 1984, Firoz and I were introduced through some family friends who thought we would be a good match for each other. When I first saw him, he was very tall, and I didn't think he was particularly good looking, but I was being quite superficial. However, when he arrived at my house, the first thing he did was ask to pray, and my parents were quite impressed at that. After that, we all had dinner together, and Firoz and I went for a chat. Firoz is younger than me and I remember saying to him that I thought he was a bit young, and perhaps he should come back when he was older. Considering that wasn't a possibility, I thought that was the end of it, but a few days later, he sent another proposal through some other friends. This time, I realised he must have seen something in me, so we met up again, and I accepted his proposal the second time round.

After we got engaged, it was quite a difficult period for us because we're very different in personality. I'm more hot-tempered and impulsive, whereas Firoz is calm and patient, and keeps things on an even keel. Because of that, we would clash a lot, but we decided early on that we would talk things through. Fortunately, in those six months, we ironed out all our differences and became really good friends, and I feel that was a very strong foundation for our marriage.
Firoz
I was living in Dubai with my brother, and I flew to England to see my other brother who was in Birmingham at the time. When I arrived, he asked if I was looking to get married and that there was someone who I could meet, so I didn't see the harm in going to meet her. I grew up in Africa where I lived with my mother, as my father passed away when I was very young. And because I was relying on my brothers in Dubai and Birmingham, I thought it was about time I made my own life. The idea of getting married and setting up home with a family of my own appealed to me.

When I first saw Yasmin, she had purple hair. This was certainly very different to a lot of girls, and I soon realised she was exactly that—different, and I really liked that about her. I also asked to pray as soon as I got to her house, which her parents were quite impressed at, so looking back, I can see that I played an ace card! After we had a chat and got to know each other, she asked if I thought we were too young to get married. Yasmin was referring to me being younger than her and so I told her that I didn't think there was a 'right' age that you were supposed to be to get married. She said I should go away and think about it, so I did, and I proposed again.

I was still living in Birmingham during our engagement, and I tried to visit Yasmin in London on most weekends, and we would speak on the phone almost everyday. On the wedding day, I was slightly anxious but I was looking forward to what lay ahead. What more could I ask for, I was living life my own way and we had so much to look forward to. Above all, I loved the person who I was going to be living with, and she was my soul mate.

Share this


Link to this
Printer Friendly