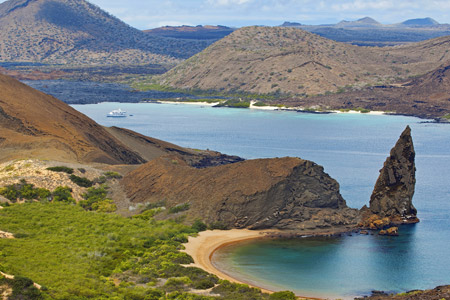 Sun, Sea and Iguanas
Issue 93 June 2012
Ecuador offers a treasure trove of cultural wonders on the mainland, and the nearby Galápagos Islands hosts an equally wonderful array of wildlife—and you do not need to be Charles Darwin to appreciate it.
Located on the equatorial line in the northwest part of South America, Ecuador encompasses nature's most elaborate canvases. The swirling waves of the Pacific Ocean sculpt life into the western shoreline, whilst on the eastern side, splashes of colourful fauna embellish the avocado-shaded flora of the Amazon. Slicing through both of these are the abstract looking Andean ranges, dominant and imposing in character. If all the world's natural riches were to be found in one country, then picture-perfect Ecuador surely tops the list.

Bordering Chile to the south and Colombia to the north, Ecuador is a country blessed with a diversity many of its neighbours would covet. With a historic cultural centre in Quito, the capital is the best place to start your Ecuadorian adventure. Quito boasts the largest and best-restored historic centre in the Americas. It's a treasure trove of churches, squares, cobbled streets, markets and a million-and-one small shops; the ideal city to explore on foot and make new discoveries. Of all the Latin American countries, Ecuador has the smallest Muslim population, and the concentration of the several thousand or so are found around the Centro Islamico del Ecuador in the leafy suburbs of Quito. The Islamic centre in Guayaquil is also convenient for those flying to Baltra, the gateway to the Ecuador's most popular attraction.

Although most of South America boasts dramatic landscapes and many share the Amazon, Ecuador has a trick up its sleeve; the Galápagos Islands. This collection of islands is home to much of Charles Darwins' research, and you don't have to agree with his theory to appreciate the natural beauty that has been created on this earth. The Galápagos is one of the best examples of wildlife living in its natural environment and many of the archipelago's animals, such as the marine iguana, are found nowhere else on the planet.
Share this


Link to this
Printer Friendly