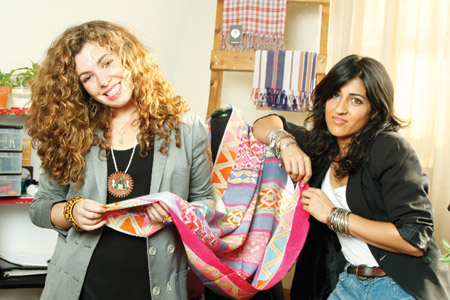 A Fashionable Friendship
Issue 93 June 2012
A strong humanitarian outlook, coupled with a love of fashion caused Dana, a Libyan Jew, and Farah, a Pakistani Muslim, to launch their own line of accessories.

Dana
My brother was getting married in the Great Synagogue of Rome, and a friend of mine had told me that her Canadian friend Farah was living in Rome, so I told her to invite Farah along to the wedding. When Farah and I first met, I noticed she was a sharp, stylish woman who shared my passion for both fashion and politics. We spent a lot of time together in Rome and kept in touch by email afterwards. Farah came out to New York for a visit and we went out for lunch, where we both realised that we were seeking a new direction in our careers.

I was freelancing with DKNY at the time, and after much discussion, we both discovered that we were itching to start our own line. My family is involved in humanitarian work, and Farah comes from a social media justice background, so we both agreed to focus on the people who make the products, just as much as the product itself. We both come from cultures that put great emphasis on handmade production of crafts. With these two tenets in mind, we launched A Peace Treaty, where we travel to regions of socio-political strife and seek out local artisans and craftspeople, who we ask to design a fashion accessory, which we then sell on, paying them a fair wage and creating income generation opportunities, in particular for unemployed workers, the disabled and widowed women.
Farah and I could not be any more different. I am more of an emotional, creative type who feeds off instinct, whereas she has a logical business mind and stays cool under pressure. I tend to say everything on my mind spontaneously, but Farah likes to think first. I react to events with passion, but Farah takes a more logical approach. I have a strong sense of urgency; Farah is more patient with her decisions. I am the Ying and she is the Yang.
Farah
I met Dana in Rome where I basically crashed her brother's wedding. We immediately connected over growing up in Canada, having moved there for high school, and we shared the immigrant narrative. We both cracked jokes about being FOBs (Fresh Off the Boat), but then realised we had a deeper connection in our taste and appreciation for handicrafts, as well as a need for change in the consumer industry and gaps in the fashion market.

I had been working on social justice campaigns, but kept hitting roadblocks because this was during the Bush era when government policies did not support the work that we were trying to do. I wanted to branch out and start a social business, and I knew it would be around fashion and consumer attitude changes. So when Dana and I started discussing launching a fashion line, it felt natural to start something that embraced the rich cultural history of countries, which is often forgotten amidst the suffering and political upheaval.
Share this


Link to this
Printer Friendly