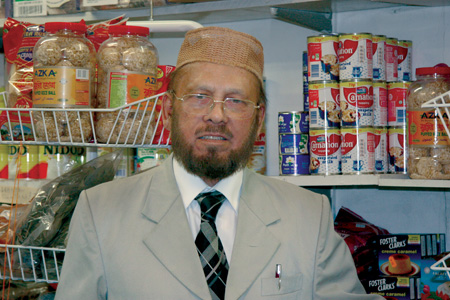 In Service of the People - Dewan Shamsul Islam
Issue 95 August 2012
Burning with a desire to ensure his brothers got the education he never had, Shamsul came to Britain in 1958 to earn some money. Since then, his entrepreneurial spirit and generosity have made him a pillar of the community.
With an ancestry that ranges from Royal Mughal advisors and teachers to imams and farmers, the onus upon me to make something of my life was intense. My grandfather died at an early age leaving behind a widow and eight young children. In a male dominated society, my grandmother was forced to sell the vast lands my family had owned for generations in order to provide for her children. After years of prosperity and we descended into poverty.

I was born in Moulvi Bazaar, Bangladesh on 2nd February 1931. I was the second eldest of seven boys and one girl. I attended only two years of primary school as we were short of money, so I had to work on the farm with my father, who was also an imam at the local mosque. Although my desire to learn had been stifled by the early termination of my schooling, I understood the duty I had to my family and ensured that at least some of my brothers studied to a higher level. With the help of Nurul, my immediate younger brother to whom I was especially close, I strove to help my family return to the high standards of achievement of the past. Three of my brothers later graduated from university, which made us all happy and proud.

At 25, I married Nurjahan, but she died of a sudden illness after only two years. We had been very happy and her death left me feeling incredibly lonely. In 1958, I received news that Britain was seeking migrant workers. So I departed for England on 17th February 1958 in search of a new life. I had heard much about the riches that were to be found in the UK, but I left the country of my birth feeling nervous about heading for a land so far from home.
Share this


Link to this
Printer Friendly