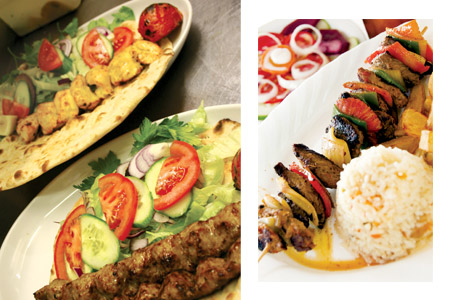 Review - Rice House of Kebab and Wrap
Issue 95 August 2012
Review by Mohammad Mirbashiri

A few decades ago the number of Iranian restaurants serving the capital was few and far between. In recent years however there has been a sharp rise in them throughout the city. West London in particular has become home to large communities of Iranians who have introduced an array of distinct aromas and spices from the Iranian plateau.

In this vein, I set off to Rice House of Kebab and Wrap, a relatively recent addition to the W4 dining scene (well, almost two years now) to sample the Persian cuisine. Rice is a family-run business in the heart of the leafy Chiswick High Road which presents a sophisticated selection of Iranian mezze and main course dishes.
To start with I tried the deliciously seasoned Mirza Ghasemi, a purée dish of smoked aubergine and tomato and Salad-e-Olivieh, a mayonnaise-rich potato and chicken dish (aka Russian Salad) highly recommended with wonderfully fresh clay-oven baked naan bread.

The mixed grill platter for two to share was made up of two skewers of minced lamb (Koobideh), a skewer of lamb shish (Chenjeh) and a skewer of succulent saffron chicken (Joojeh) as well as two lamb chops (Shishlik), and was served with piping hot saffron rice and juicy grilled tomatoes.

Rice is a pleasant eatery with a minimalist-chic design set apart by its warm service and amicable staff. The minimalist décor was classy but could do with a hint of character. That being said, the lack of charm in décor most definitely seemed to go unnoticed by the buzzing diners who had filled the Chiswick-based restaurant on a weekend evening. No sooner had I walked out that I began to plan my next visit...
Rice Restaurant
309 Chiswick High Road,
Chiswick, W4 4HH
Share this


Link to this
Printer Friendly