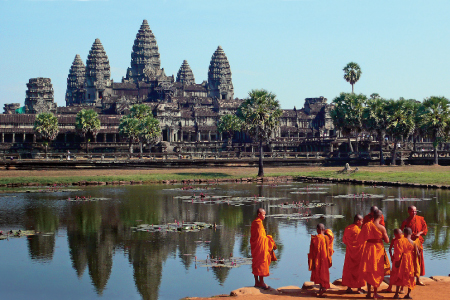 Beauty Regained
Issue 96 September
The land-locked country of Laos is often forgotten when thinking of Indochina's infamous and at times gruesome past, with neighbouring Cambodia uppermost in peoples' minds. Travelling through one of Asia's least-known lands, Nabeel Shariff discovers there is more to these two countries than just fallen regimes.
My Cambodian journey started in the modern capital, Phnom Penh. Located on the Mekong River, the city was once known as the 'Pearl of Asia' or 'Paris of the East' with its beautiful French-built edifices and boulevards. Sadly, the ravages of the Vietnam War and the Khmer Rouge regime led to the capital's decline for many years, but with international assistance and investment, reconstruction has begun apace and the city is attempting to regain its former glory.
Memorials to the Khmer Rouge's many victims are dotted around the city, reminding visitors of the country's brutal and tragic recent history, and their presence makes Phnom Penh's revival all the more remarkable when you consider that the city was forcibly depopulated and allowed to crumble during the Khmer Rouge era, with reconstruction only beginning in the early 1980s after it was liberated by Vietnamese forces. Today, Phnom Penh is chaotic yet edgy, and a destination for travellers looking to experience something a bit different. Scenes where Khmer Rouge atrocities once occurred are now vibrant streets crowded with the new youth of the city, mingling amongst upmarket French and Japanese restaurants.
Share this


Link to this
Printer Friendly