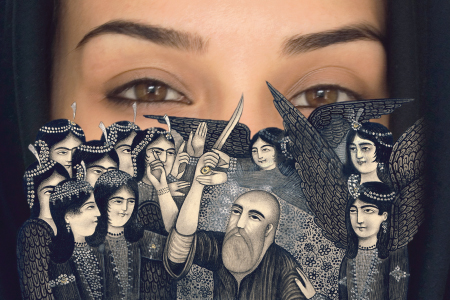 The Cut in Cutting Edge
Issue 96 September
Art can be beautiful, it can also provoke. Fatema Zehra examines a new collection which seeks to enhance social discourse through the power of artistic installations.

The Middle East is an ever-changing landscape that often provides intrigue to those looking in. With the continued interest and call for bridging dialogues, there have also been conversations of another kind taking place on the art scene, with a notable boom in the Middle Eastern art market. Themes of politics, society, identity and belonging are recurring matters of interest as well as discourse surrounding conflict, war and revolution. Dubai's Ayyam Art Center owned by Ayyam Gallery is one of the leading galleries in the Arab world hosting emerging and regional artists. Earlier this year they hosted pieces from the private collection of Khaled and Hisham Samawi, in the second of its series, 'The Samawi Collection II'. The collection showcased emerging artists from the immediate region, as well as international artists from France, the Netherlands, the United Kingdom, the United States and Korea to provide a more comprehensive view into contemporary art and new media.The Samawi Collection crosses several schools and periods of Middle Eastern and International art, including over 3000 works by modern and contemporary artists in a variety of mediums. Most notable is the range of genres the collections spans, including cutting edge technique in sculpture and politically infused canvases of art. Some of the artists showcased include the sculptures and installations of James Clar and Thaer Maarouf, work by Qaswara Hafez and Raneem Farsi and mind-capturing comment pieces by Newsha Takavolian and Sadegh Tirafkan. Their works cover a broad spectrum of themes; each united in their discourse of society today, including topics of gender issues, the effects of war, culture and identity as well as the influence of media on modern society.

Gender is no stranger within the framework of art. Newsha Tavakolian's photographs present feminine issues in present-day Iran. Collectively titled, 'Dream CD Covers', the series highlights limitations placed on women by presenting a dejected subject conscious of their barriers yet limited to surpass them. In the piece 'Glass ceiling', Tavakolian quite literally depicts the glass ceiling faced by women by encasing the subject's head within a translucent box. Notably stark is her expression of hopelessness and resignation that works on several levels to remark on the trapped and often limited discourse of gender equality.

Share this


Link to this
Printer Friendly