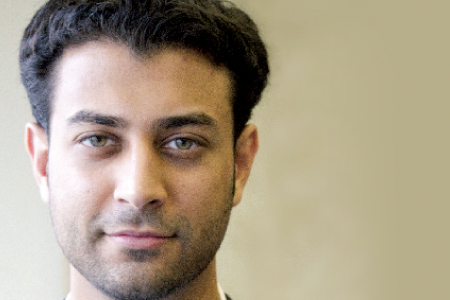 10 Questions with Haroon Mirza
Issue 96 September
Haroon Mirza arrived in Canada at the age of 13 from the Middle East. By age 28, he was Co-Founder & CEO of an award winning startup that was acquired by Intel in a multi-million dollar deal.
Haroon is the Director of Business Development for the Anonymous Viewer Analytics (AVA) department at Intel Corp. Formerly, he was Co-founder and CEO of CognoVision, an award winning analytics provider for the Digital Signage and Retail industries. CognoVision was named Canada's Most Innovative Company in 2009 by the Canadian Innovation Exchange (CIX), and was acquired by Intel in 2010.

Haroon graduated from Carleton University's Sprott School of Business with a Bachelor of Commerce, and Harvard Business School's Program for Leadership Development (PLD). He is a Charter Member of The Indus Entrepreneurs (TiE).

1. How did your education and upbringing have an influence on you?
I have always felt truly blessed to have incredible parents who have always encouraged me to pursue my dreams and ambitions. I was never forced to study any particular subject or to pursue any specific career path. Instead, I was encouraged to pursue whatever path I desired. My parents were excellent counsellors, yet they always supported me in making my own decisions. Education-wise, my view on the topic is that it is incredibly important. It does not finish with a university degree. Looking back at my university education, I do not find what I learned from textbooks to be very practical or relevant. Instead, I find that it was the soft-skills that I had picked up in my classes that really helped me grow. I learned about group dynamics, how to present, and, very importantly, how to learn. I learned how to find solutions to problems, how to articulate my thoughts, how to prioritise and manage an extensive workload, and the importance of cultivating strong relationships with my peers and professors.

2. Which people do you admire the most and why?
I admire people who have struggled to achieve significant success, and that remain humble and give back to the world and to their communities. Successful, driven people have the power to inspire ambitious minds who look up to them. I believe it is our duty to give back to the world and make it a better place.

3. What was your biggest break and was there an element of luck involved?
My biggest break was being able to start CognoVision with my co-founders Shahzad Malik and Faizal Javer. The stars really had to align for the three of us to start a company. We were all in Ottawa at Carleton University together in 2000. Shahzad was pursuing a Masters in Computer Science at the time, while Faizal and I were studying Commerce. Each one of us embarked on our own unique journeys. Shahzad completed his Masters and went on to pursue a Ph.D. at the University of Toronto. Faizal moved to Edmonton and co-founded a mattress manufacturing company with his cousins. I completed my Bachelors of Commerce degree, passed the CFA level 1 exam, and started looking for opportunities in the finance sector. While I was looking for a job after graduating in 2004, my family relocated to Toronto and I thought it would make sense for me to look at opportunities there too.
Share this


Link to this
Printer Friendly