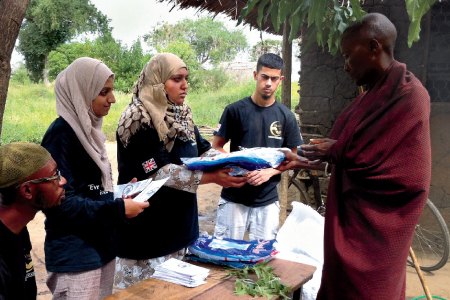 Mission Possible
Issue 96 September
With their Mission Possible project, Islamic Help seek to give volunteers the full spectrum of humanitarian work. Ali Khimji meets some of the participants to discover how their experience changed them.

In charities, volunteering opportunities can take on many forms. You can be out knocking on people's doors and asking for donations, or you could be spending time with vulnerable people, such as the youth or elderly, and making sure their needs are met, or you could even take on a managerial or administrative role within a charity instead. In light of this, Islamic Help set up an initiative that doesn't segment volunteering in the traditional sense. "Mission Possible is a project created by Islamic Help to give volunteers the 'full spectrum' experience of humanitarian work," says Nazim Tasadiq. "They go from shaking a bucket in the streets of the UK to actually seeing the difference their donations make."

This year, Islamic Help has taken two groups of volunteers to Tanzania, one in June and the other at the end of August. Prior to going on the trip, each volunteer was set an individual fundraising target of £5,000, which some of them raised through street collections, sponsored walks, charity dinners and family fun days.
Share this


Link to this
Printer Friendly