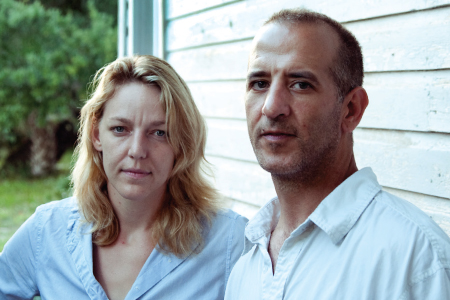 An Unimaginable Alliance
Issue 96 September
In November 2009, Nader's cousin Nidal killed Kerry's father Michael in the infamous Fort Hood shooting. They now work together to fight the causes of extremism.

Kerry
When I heard what happened at Fort Hood, I rushed over to a friend's house to watch the news and try to figure out what was going on. My dad had had a heart attack two weeks before and had just returned to work that week. It was sort of a horrible blessing that my friend who I was with had lost his partner in 9/11, so he knew how I felt. I still couldn't believe what had happened; I was shocked, horrified, and devastated.

I first saw Nader on television. He was talking about the Nawal Foundation, which he had set up after the Fort Hood shooting. He was speaking out against extremism, and I wanted to offer some support, because that's not something they had received, and they were going through hell as well, which they just didn't deserve.
We first met on November 4, 2011. It started out very unknowing, and one of the things Nader and I always say is that there is no script for our friendship. So the first five minutes were just about finding that traction of how we were going to talk. Once we started talking, it was clear that we were going to be fine. Nader talked about what he wanted to do with the Foundation, and how I could get involved. Since that meeting, I've joined the Board of the Foundation and we have spoken together at workshops.
We're still a new organisation, but our underlying message is about speaking out, mutual respect, and understanding. Our motto is 'No more silence, no more violence', and we believe that extremism develops when the other side is quiet. A lot of people talk about tolerance, but that is just putting up with something, whereas we feel that we need to move to mutual respect and understanding.

Whenever Nader or I explain to people how we met, the immediate pause and look on people's faces is very interesting to see. I don't think I understood how big a deal it could be, or how much it would affect people. We're still a young friendship, and we have a long way to go. And that's what we talk about: where the Foundation is headed, and how are we going to get there.
Nader
I was just coming off the golf course with some friends, when someone told me that Nidal had been involved in a shooting at Fort Hood. I rushed home straightaway, under the impression that he was the victim. Nidal and I lived down the road from each other when we were young, so we were very close growing up. But in recent years, I had tended to avoid him because all he wanted to discuss was religion and how I practiced the faith. When I came to learn that Nidal was the shooter, the world stood still. It was surreal. Life changed for our family at that point, and it was completely out of our hands.
The Nawal Foundation was born from frustration that American Muslims lacked a true voice to represent its feelings and position about terrorists and terrorism. The media only seemed to focus on terrorist rhetoric, and make out as if all American Muslims felt that way. I saw there was a need for a better face for American Muslims, that was articulate, could denounce violence without question, and say our religion doesn't promote this. We also had to accept that our community has a lot to do, and recognise that we have to own this identity and change it for ourselves, not just hope it will go away. Kerry and I don't put ourselves forward as experts on terrorism, but we're experts in knowing the impact that terrorism has.

When Kerry first reached out to me, I was very surprised. They came to visit me at my home, where she and her family met my wife, son and mother. They had brought a book with them that their father had read to them as kids, for us to read to our son. It was a very emotional experience. To this day, I admire her courage and strength, and our friendship has blossomed from the work we have done so far.

In some ways I owe it to ABC News for bringing us together. In an interview, they asked what I would say to the victims' families if they ever spoke to me, and I didn't think that was a fair question. But my response ended up hitting the hearts of some of those family members, and now I wouldn't change that for the world
Share this


Link to this
Printer Friendly