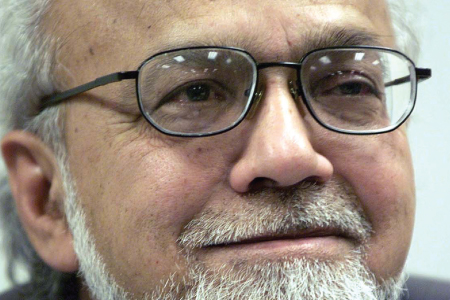 An Era of Change - Dr. Ghayasuddin Siddiqui
Issue 96 September
Having arrived in Britain to study for a PhD in chemical engineering in 1964, Dr Ghayasuddin Siddiqui soon found himself meeting Malcolm X and organising Arabic language courses.
My birth certificate says that I was born on 1 December 1939 in Delhi, but it might have been a few months on either side. My mother would later tell me that her only memory was that it was raining heavily at the time. The Second World War was raging and when it was over, the concern of the Muslim community shifted to the demand for Pakistan. Immediately after the Partition, riots and massacres took place across India, with millions losing their lives on all sides. My family decided to uproot and move to Pakistan. The trains taking the exodus of people between India and Pakistan were constantly hit, with passengers being killed. I was fortunate that ours was the first train to reach Lahore without any incident.

Some of my father's family had already settled in Karachi, so we made our way there. But my father was a civil servant, so as soon as we arrived, he was transferred to a small town in Sindh. I started school, and it was here that a teacher introduced me to the works of Mawlana Mawdudi, a political figure who headed Jamaat-e-Islami, and I became involved in their youth group. Mawdudi had been sentenced to death, which later became life imprisonment, and was being held in a prison in south Punjab. In 1954, as a young boy of 14, I went to visit him with a friend during our summer holidays. After that encounter I became even more charged.

I wanted to study law at university, but my father convinced me that there was no future in that field in Pakistan and said I had to study science instead. When I arrived at university in Karachi to study chemistry, I found myself more inclined to student politics, partly because of initial inclination to law and governance. From Karachi, I went to university in Sindh to study for my masters, and then back to Karachi in 1962 to take a job as an Assistant Lecturer. In 1964, I was fortunate to receive a bursary to come to the UK to study for a PhD in Chemical Engineering and Fuel Technology at the University of Sheffield.

I arrived at Heathrow in February 1964. I remember it being very cold and the days being very short. One thing that bothered me was that shops would close at 5pm on the dot. If you had forgotten to buy milk or bread, you would have to wait until the next day, and it wasn't until immigrants arrived in their masses that the evenings became livelier. The 1960s were a time of change for everyone in Britain; televisions and motorcars were still very rare.

At the University of Sheffield, I became very active within the Islamic Society. This was also the time when FOSIS was formed and I was appointed as the Assistant Secretary. We decided to launch a monthly publication for the students, called The Muslim.

Slowly, my study room in the university department became the office for the magazine. I soon came into contact with many unique personalities of that time, such as Said Ramadan, father of Tariq Ramadan, and Malik bin Nabi, who was a prominent philosopher and writer from Algeria. I also met Malcolm X, who came to London the year before he was assassinated, and we arranged for him to speak at Sheffield and Manchester. He was a star speaker. I also met students who would later take on prominent roles, such as Anwar Ibrahim, who served as Deputy Prime Minister of Malaysia during the 90s.

These activities took up so much of my time that I devoted very little to my PhD. I finally submitted my thesis in 1970, six years after starting, and said to myself that I had completed my commitment to my father to study science, and I never touched that thesis again. I was still thinking about whether I should return back to Pakistan or remain in the UK. Whilst I still had good contacts in Pakistan I felt I could contribute more to Islam and the development of Muslim communities by staying on in the UK.

It was in conversations with some friends that I decided that the growing UK Muslim population needed a voice, so we launched Impact magazine in 1971. We agreed that the publication would not be partisan and remain objective in its coverage. When civil war broke out in Pakistan, which led to the creation of Bangladesh, Impact decided to support the Pakistani army action. I was dismayed. We had agreed the magazine would not take sides, but it had become partisan. I resigned.

After I left, there were discussions taking place in activist circles about the formation of a think-tank to study and discuss events unfolding in the Muslim world. It was obvious that Bangladesh was the opening of a Pandora's Box within the ummah. At this time, Dr Kalim Siddiqui emerged on the scene, and he asked me to join him in establishing the Muslim Institute. We set up in 1973 and eventually based ourselves in Bloomsbury, the heart of academic London. We would run courses and conferences on topics such as the philosophy of science and the foundations of Islamic civilisation. We also organised an intensive Arabic language course for students during their summer vacation. The standard of the course was so high that within eight weeks the students were able to give short speeches.

In 1996, Dr Kalim Siddiqui passed away and I took on the role of Director of the Muslim Institute. We became involved in a number of social issues. After 9/11, I formed part of the original steering group that set up the Stop the War coalition, campaigning both against the Afghanistan and Iraq wars and for Muslims to join mainstream politics. The situation in our UK madrassahs also concerned us and that the teachers knew little about British culture or the ethos of education. There were even cases of physical and sexual abuse. In 2006, we published a report on child protection policies within faith-based environments. We also campaigned against forced marriages and honour killings and launched the Muslim Marriage Contract in 2008, which safeguards the rights of both women and men, and is now used by many young people.

Today, I am retired from most of my commitments, but am still involved where I can be. I pay tribute to my wife who, whilst I was busy with the community, brought up our four children whilst also being a successful social worker in her own right. Our children are now all settled with families of their own, established in their careers, and are also active in community work in their own way; for example, my son Asim helped set up and lead the City Circle, and my other son Salman formed the MUJU theatre group for young Muslims and Jews.
By and large, the Muslim community today is not well educated. We have a poor representation in the media, and the gap in power balance between us and non-Muslims is huge. I have always believed that excellence, engagement and patience are the keys to rectifying this. Whatever we do, we must be the best in the field. We should also build bridges and engage with wider society. And everything in history comes in small steps. Occasionally you get a huge jump with a revolution, but on the whole, it comes in stages. As Darwin has said, only the best will survive in any environment, and unfortunately this is the reality of our modern world.
Share this


Link to this
Printer Friendly