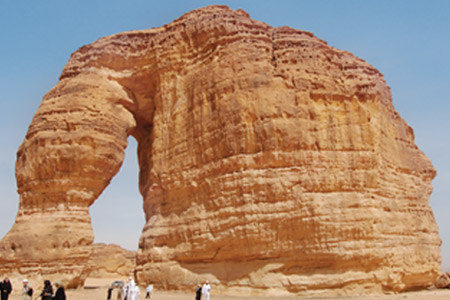 Arabian Journeys
Issue 97 October 2012
Saudi Arabia is renowned for its hospitality towards pilgrims visiting the two Holy Cities, however the country has much else to offer the traveller.
"Saudi Arabia's hidden treasure, Madain Saleh, was a Nabataean city hewed out of rock in the same style as Petra in Jordan."
I f you tell someone that you are going to Saudi Arabia, they will probably assume that you are going to visit the Holy Cities of Makkah and Madinah. But in a country that is the largest in the Middle East, and three times the size of France, it is strange that visitors never venture away and discover the other wonders that are on display in the Kingdom. The country was restricted to most foreigners for some time, but it realised that tourism has wider benefits to society. So the authorities, under Prince Sultan bin Salman, have opened up more of the country to visitors.
As the capital of the country, Riyadh is probably the best place to start your visit. Although the city is socially conservative, there are luxurious hotels and fine restaurants at which you can explore international cuisine. The top sight to see in Riyadh is undoubtedly the National Museum, and is probably one of the best museums in the whole of the Middle East. It has eight floors, which are packed with fascinating displays on the culture and history of Arabia, including beautiful, original rock carvings and a full-scale reconstruction of a Nabataean tomb. Everything is in English, and there are informative films about each of the sections. You start off in the Man and Universe Hall, which looks at the patterns of life throughout the different geological ages, and move on to the Arab Kingdoms Hall, learning about the ancient civilisations that were rooted in the region, and the way they lived their life. From there, it's to the Jahiliyya Era Hall, which specifically looks at the role of trade within the area before the Prophetic period. The fourth hall is dedicated to the life of Prophet Muhammad, and the next hall covers the era of the Islamic Empire. The next two halls are on the establishment of the Saudi state, and how the country came to be what it is today, and the final hall is about Hajj and the Grand Mosques in Makkah and Madinah.
Share this


Link to this
Printer Friendly