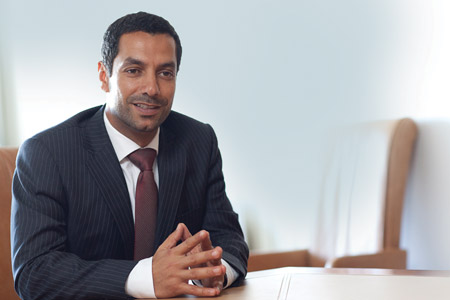 10 Questions with Kamal Bahamdan
Issue 97 October 2012
Earlier this year, Kamal competed at the London Olympic Games, representing Saudi Arabia in show jumping. He won the team bronze medal and came fourth in the individual event.
"My father taught me to always keep in mind that fulfilment is about needing the least, rather than having the most."
Kamal Bahamdan is CEO of the Bahamdan Group, Member of the Board of Directors and Head of its Management and Investment Committees. He is also CEO of Safanad, based in Geneva and London, through which the Group's global alternative investments are largely focused. Mr. Bahamdan is responsible for having expanded the Group's activities from a largely industrial base by building investment and operating platforms in telecommunications, education, infrastructure and retail across the MENA region. Previously, he was co-founder and Managing Partner of the BV Group, a private equity investment firm formed in 1995, focused on technology as well as real estate investments, and operating in the US, Europe and Asia. He is a graduate of Boston University with a Bachelor of Science in Manufacturing Engineering. He is also a five-time equestrian Olympian, and bronze medalist in the 2012 London Olympic Games. He was named a Young Global Leader 2006 by the Forum of Young Global Leaders, an affiliate of the World Economic Forum.
1. How did your education and upbringing have an influence on you?
As far back as I can remember, my father, who was founder of our family group and CEO/Chairman of the largest Arab bank, a community leader, and a family man, would dedicate significant time to share with me his wisdom on business, education, society, and life in general. He introduced me to business at an early age by nurturing my communication skills, and my time and people management skills, as well as my objectivity, persistence, and drive. Also, my mother, herself a successful businesswoman and active philanthropist played a pivotal role in my upbringing through her endless guidance, support, and motivation whereby she practically fueled my will to do more and accomplish my dreams and goals.
Share this


Link to this
Printer Friendly