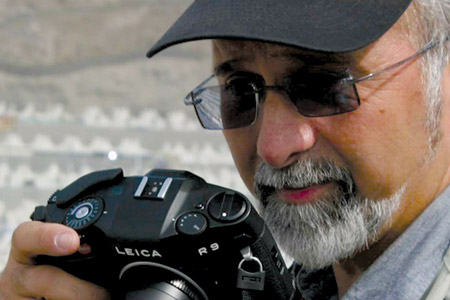 A week in the life of Omer Faruk Aksoy
Issue 97 October 2012
Aged 20, he bought a one-way ticket from Istanbul to Paris. Since then, Faruk has travelled the world, and photographed much of it.
I am a photographer, a cameraman, and a devoted traveller. In 1998, I took my wife Seham, eleven-year old son Rakan, and nine-year old daughter Meral on a trip round the world in 33 days. The children thought it was a holiday, but I was actually piloting a film that I wanted to make about Muslim children visiting countries round the world in 99 days on a peace mission. The trip took us from Jeddah to Amsterdam to New York, the Niagara Falls, Las Vegas, California, Hawaii, Japan, China, Singapore, Malaysia and back to Jeddah. The children loved it at the beginning, but towards the end when they realised my real motive, they threatened to withdraw their services unless they were paid! Now 26 and 24, Rakan and Meral have fond recollections of that round-the-world trip. Having done the pilot, I am still looking for a sponsor for the film.
I have travelled to about 55 countries. I searched half the world for a wife—from New York to the Philippines, looking for someone beautiful to marry. And then I found her right here in Jeddah, where I have been living since 1981. Seham is a Saudi doctor who has been a supporting companion all these years.
I was fortunate to be behind the camera in Shems Friedlander's film, Faisal: Legacy of a King. That was something that took three years. Most of the filming was in Saudi Arabia, but we had to make trips abroad too. For the film, we re-created some of the battle scenes that King Abdul Aziz had fought. We went to the desert where the Bedouins lived, and re-enacted scenes with warriors on horseback. Altogether, the production team interviewed about 50 to 60 people —it was fascinating to listen to people who had personally known or worked with Faisal—from world-renowned statesmen like Henry Kissinger to Faisal's personal valet to members of his family. People spoke so highly of him. For me, my abiding memory of the interviews is the eerie silence about Faisal's death. No one would talk about it, but you just knew they were bursting to say something. There is an official line, and that's the end of the story. Some people say it had something to do with the oil embargo, and Faisal saying something along the lines, "We came from the desert, and we are ready to go back to the desert." We'll never know.
Recently, I have finished making a documentary about the Makkah Clock Tower, one of the tallest buildings in the world, constructed by the Bin Laden Group. I am fortunate that for the last 30 years, I have been taking photographs and making films about Makkah and Madinah—an unrivalled feat and privilege. I put this down to my destiny, and the prayers of my grandfather. After graduating from Istanbul University, my father wanted me to go to Makkah, but I went the other way—to London, and joined a British film company. Destiny quickly caught up with me, as that very company was commissioned to do a project in Makkah. I stayed after filming and have been in Saudi since.
The Makkah Clock Tower was a completely different experience. It is the second tallest structure in the world. Sometimes we were filming above the clouds and could not see the ground. At other times, heavy rain would completely soak us and the wind would blow us around. On one day, a hook on a chain came loose and the film crew started to panic. We were 500m up, and we thought this was it. We prepared ourselves to die, and consoled each other. Fortunately, the crane driver did not panic and very slowly managed to swing us onto the tower.
I am proud of the Makkah Clock Tower, but also aware of some of the criticism surrounding. It is built on the site of an ancient Ottoman fort that was knocked down in a few days. The construction of the tower is a tremendous feat—the clock is six times larger than Big Ben in London—and the technology involved is almost miraculous. They had to re-design the clock 100 times to ensure that it would work under such harsh climate. It stands overlooking the Ka'ba—dwarfing the House of God—and when you do tawaf, you cannot escape it.
Having turned 60, I am still eager to work and I have some exciting projects lined up. Every day provides different opportunities, and every day brings its own barakah. We should enjoy our lives and excel in whatever we do. l
Share this


Link to this
Printer Friendly