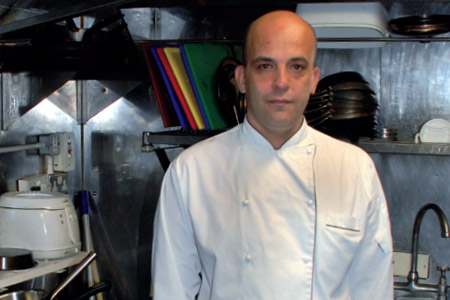 A Week in the Life of Muayad Ali
Issue 86 November 2011
Owner and executive chef of La Sophia restaurant in London, Muayad Ali's career has been as exceptional as some of his dishes.

Throughout my culinary career, I had always wanted to open a restaurant and I believe it is every chef's passion to do so. My working day typically begins at 9am, when I order the necessary ingredients from my suppliers. I also test out new samples of meat that have been sent to me. Then I start my preparations for lunch. Everything in my kitchen is made from scratch; we have never served anything ready-made to our customers. I spend the time between lunch and dinner preparing the food. From 6pm until 11.30 at night, I will be in the kitchen cooking and keeping an eye on everything else that is being prepared.

I first worked in a kitchen when I was 15, in my hometown of Tulkarn in Palestine. I started cooking at a local restaurant the year after, and I had always been curious about what chefs do to make a restaurant successful. Throughout my travels and work in restaurants in Europe, I have learnt that it is not just about cooking; it is the culinary techniques, the thought that goes into the menu and the preparation beforehand.

After finishing high school in Palestine, I went to study Culinary Art at a college in Amsterdam, and worked in a French restaurant to complement my studies. From there, I went to work in French restaurants across Belgium, Switzerland, Germany and Canada. French cuisine is all about creativity and exploring your imagination within your dishes, as well as having unlimited ingredients to work with at your disposal. I am also fortunate to come from the Mediterranean region; an area rich with ingredients, in particular herbs and fresh vegetables. In Canada, I worked as an executive sous chef in a restaurant that served modern Italian cuisine. It was voted one of the top 10 Italian restaurants in North America.

During my time in Canada, I worked for a banqueting company and we had to provide food for a government conference for 2,000 people. I worked 26 hours straight. For the dessert, we had ice cream and I had to spend six hours in the walk in freezer, preparing 2,000 servings with three scoops of different flavours in each one. It took me a very long time to warm up after that!

With my global experience, I have learnt a lot about the different types of meat and cuts, as well as what types of cuisine are popular with customers. I have brought this skill to
La Sophia, and we are the only fusion cuisine restaurant in London to mix Mediterranean ingredients with French cooking.

We offer a unique menu at La Sophia, and serve ostrich, rabbit and venison amongst other distinctive foods. One dish in particular that seems to interest customers is an ostrich fillet with date sauce. This originality is carried through to our dessert menu, where we have a poached pineapple with caramel sauce, accompanied by coriander syrup and almond jelly. My signature dish is a beef fillet and foie gras burger. It is based on a classic French dish, but for my incarnation, I dice the beef fillet and mix it with foie gras, which makes it more flavoursome. In the UK, I can get halal cuts of beef, lamb and chicken only. When we first opened La Sophia, I had to make a trip to Paris to set up contracts in order to source the other cuts of halal meat that we offer, as these are more popular in France.

My wife and I have two young children, Nur-ul-Din, who is three years old and Sophia, who was born one month before we opened our restaurant. They love to eat good food and have now grown up to become my fiercest critics.

We get many customers who ask why we have not been awarded any Michelin stars, and many compliment us on the quality of our ingredients. We have been fortunate to enjoy a significant amount of success within the short period of time we have been open. What makes it even more special is that we are experimenting with a new cuisine, halal gourmet, and it shows that I have made progress in my mission to get the Muslim community to think outside the kebab roll.
Share this


Link to this
Printer Friendly