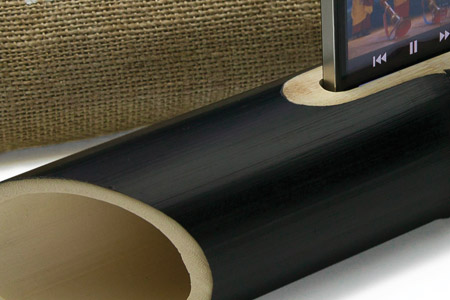 Geek Shaykh
Issue 98 November 2012
Keep your green fingers at the ready, as Ali Khimji presents a range of eco-friendly gadgets that will keep excitement levels up and energy bills down.
Wooden Sounds
iBamboo Speaker
When the iPhone 5 was announced, many people complained that it had a different connector to the previous iPhones. This meant that those who had bought docks for the iPhone 4 would not be able to use them with the iPhone 5. However, if you had bought the iBamboo Speaker, you wouldn't have that problem, because this natural speaker doesn't connect to your iPhone in the same way that other speakers do.
The natural resonance of the bamboo amplifies the sound produced by the built-in speaker of the iPhone. And because bamboo is a completely natural material, no two iBamboos will be alike. As well as the natural bamboo colour, it is available in black, and the producers have also developed a prototype of the speaker made from recycled plastic.
£19.00
www.ibamboospeaker.com
WHY
Completely eco-friendly from form to function
WHY NOT
Can get damaged quite easily when taking around
Cooking under the Sun
Cookup Solar Barbecue
We often worry about how sustainable and ethical the food we eat really is, but not as much concern goes into how the food is cooked. Conventional ovens, cookers and barbecues all depend on fossil fuels for energy, and even campfires give off harmful CO2 emissions. But this Solar Barbecue focusses the sun's rays within its parabolic shape to cook food without any smoke or CO2 emitted. It can reach temperatures of up to 200°C, and will take roughly an hour to cook chicken for up to five people. And when it comes to switching it off, you just flip the lid over so it faces the ground.
Share this


Link to this
Printer Friendly