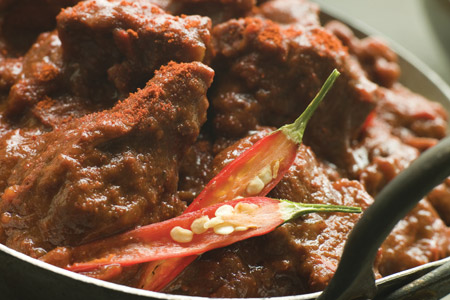 Khaana Khazana
Issue 99 December 2012
The colours and tastes of Pakistan are wonderfully encapsulated by traditional cuisine. Fatema Zehra shares a selection of mouth watering recipes sure to tantalise your taste buds.
LAMB KARAHI
Ingredients
500g of lamb
3-4 tbsp ghee
4-5 medium-sized tomatoes
8-10 green chillies
3 cloves
2 black cardamoms
1½ tsp of coarse black pepper
1 medium-sized piece of ginger, finely cut
1 tsp garlic paste
1½ salt
10-12 strands of coriander
Method
1. Wash the lamb thoroughly, then cut into small cubes.
2. Heat the ghee in a wok and gradually add the lamb pieces.
3. After a minute of stirring, add the garlic paste, salt, cardamoms and cloves. Cook the meat until it is golden-brown, then add 2-3 cups of water and cook on medium-heat until the meat is tender.
4. Chop the tomatoes into small pieces, and add to the wok. Cook until all the moisture has dried.
5. Cut the green chillies into small pieces. Then add the chillies, black pepper and ginger.
6. Finely chop the coriander and garnish.
CHANNAY (chickpea dish)
Ingredients
250g chickpeas
1 large onion
4-5 green chillies
2-3 tbsp ghee
2 tsp salt
1½ chilli powder
½ turmeric powder
1 tsp bicarbonate soda
½ garlic paste
½ ginger paste
1 medium-sized tomato
Coriander to garnish
Method
1. Place the chickpeas in a bowl of water until they are submerged. Add one tablespoon of bicarbonate soda and soak overnight.
2. Wash the chickpeas thoroughly and place into a pot.
3. Add enough water to submerge the chickpeas and one teaspoon of salt. Boil until the chickpeas are soft. 4. Heat the ghee in a pan and add chopped onions. Stir for a few minutes, and then add the ginger and garlic paste.
5. Add one teaspoon of salt to the ghee and onion mix. Then add the chilli and turmeric powders.
6. Chop the tomatoes into small pieces and add to the mixture.
7. Add half a cup of water to the mixture, and turn the heat to low and cook.
8. Once the tomatoes have softened, stir the mixture into a paste-like consistency.
9. Add the chickpeas to the paste mixture, along with the water in which they were boiled.
10. Cook for a few minutes, then add chopped green chillies and coriander, and simmer for a few minutes.
CHICKEN SAMOSAS
Ingredients
500g of chicken mince
1 pack of filo-pastry
3 medium-sized onions
2 tsp crushed chillies
½ bunch of fresh coriander leaves
1½ of salt
2 tsp cumin seeds
4 green chillies
2-3 black cardamoms
2-3 cloves
Oil for deep-frying
Method
1. Place the chicken mince in a medium-sized pan, then add one cup of water.
2. Add the salt, crushed chillies, cumin seeds, cloves and black cardamoms to the chicken mince. Cook on medium heat until all the moisture has dried.
3. Once the moisture has dried, stir for another minute.
Share this


Link to this
Printer Friendly