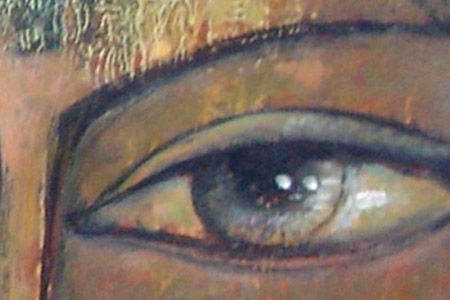 Renaissance of a Forgotten Art
Issue 99 December 2012
In a country often marked for a multitude of other aspects centred on politics and the economy, the artists of Pakistan are resolute to throw in another facet to the puzzle. Fatema Zehra explores some of the artists pushing forward the Pakistani art scene.
In the current economic climate and international standing of Pakistan, one wouldn't think that the creative scene would be booming. But it seems that this lesser known scene is a canvas for solace in a country that makes headlines for all the wrong reasons. Throughout history, art has been a tool for empowerment, expression and escape. The Pakistani art scene is experiencing a resurgence, with a wealth of talent emerging from traditional and contemporary artistic backgrounds, all paving the way for new headlines on their country.
Last month, the MICA Gallery in London hosted arTCF, a charity fundraising exhibition with The Citizens Foundation (TCF). TCF is one of the largest non-profit organisations in the country, providing formal quality education to some of the most disadvantaged stratums of society. Established in 1995, they aim to provide an alternative truth, fighting against the social constraints, logistical hurdles, financial and traditional pressures which inhibit parents from sending their children to school, particularly girls. The foundation aims to bring about an enduring positive change for communities with the greatest need through the power of quality education. It envisions the removal of barriers of class and privilege, making the citizens of Pakistan agents of positive change. arTCF exhibited a range of artists including Ather Jamal, Ismail Gulgee, Tasneem Moochhala, Sayeda Habib, Tariq Javed and Zohaib Khan, to name a few of them.
Ather Jamal works in watercolour, adopting a very classic approach to the subject. An advocate for painting on location, Jamal has spent years moving around Pakistan, capturing the landscapes and scenes from everyday life. His work has been exhibited in Europe and across Asia, including several prestigious institutions in Pakistan, including the Maritime Museum in Karachi, and the National Defence College in Islamabad. The beautiful Thar series has gained much recognition, with Jamal documenting the customs, homes and costumes of the arid Thar region that maintains the tradition of the ancient culture. Jamal encapsulates the figures of these Thar woman using bright and vivid arrays of colour against the stark dark shades of their environment, giving the pieces an almost pensive mood.
Likewise the award winning and internationally renowned artist Ismail Gulgee uses a canvas of colour. Gulgee was born in Peshawar and passed away in 2007, and received many awards in Pakistan, Japan, Saudi Arabia and France. Qualifying in civil engineering from Aligarh University, his studies took him to Harvard University in America for further studies. Gulgee was a self-taught abstract and portrait artist, who discovered his craft during his engineering studies. Although a skilled naturalist portrait painter, he is best known worldwide for his abstract work, which was inspired by both Islamic calligraphy and the American 'action painting' movement of the 1950s and 60s. His abstract pieces often focus around gestural interpretations of Arabic and Urdu letters. Using materials such as glass, mirror, silver and gold leaf within his oil paintings, paired with bright colours and sensitive brush strokes, Gulgee creates depth and movement with each sweep.
Share this


Link to this
Printer Friendly