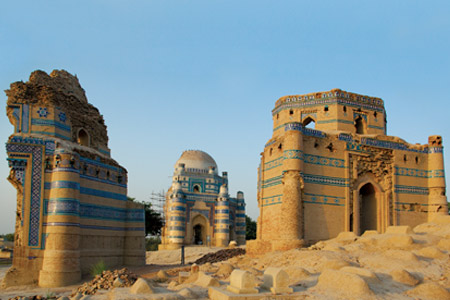 Pakistani Adventure
Issue 99 December 2012
Most visitors to Pakistan will not venture further than visiting family, but there are many wonderful historic and cultural places to be found within its borders. Ali Khimji discovers the Pakistan beyond the headlines.
Most Pakistanis in Britain would only think of Pakistan as a country to visit extended family, but there is more to this destination than just meeting old relatives. For example, could you have guessed that you can find the highest concentration of mountains over 7000m in Pakistan? Or that Pakistan is home to the longest glaciers outside of the Polar Regions? Or even that it is has six thousand years of history and culture, setting the backdrop for four major world religions?
Pakistan used to have ample facilities for tourists, but the events following 9/11 brought about a collapse in the tourism industry and many tour operators went out of business. The reputation of Pakistan as a 'dangerous country' stuck and people were dissuaded from even considering it as a tourist destination. Sohail Azhar, a British-Pakistani, visited Pakistan for a family wedding, but after, he and his brother decided to explore the country further. "As enthusiastic trekkers, we decided to explore the local mountains and ended up experiencing the most incredible trek of our lives," he says. "Even as someone who had already travelled all over the world, the majesty of Pakistan's mountains took my breath away."
Sohail was inspired to launch TravelPak, a specialist travel company that offers a range of tours in Pakistan, including treks across the mountain ranges, adventure trips, history and culture excursions, and journeys that cater for special interest. The trekking tours span from two days to 19 days, depending on how strenuous you want the journey to be. One of the special interest trips is an eco wildlife tour lead by experts from the WWF. This takes place, amongst others in the Hingol National Park on the Makran Coast of Baluchistan. Wildlife includes spinner dolphins, marine turtles and marsh crocodiles, as well as opportunities to go snorkelling.
There are a few trips to choose from in TravelPak's History and Culture tours, but the one that caught my eye was entitled 'Pakistan's Cities—5000 Years of History and Culture'. The trip lasts for 13 days and covers the major sites in the country, as well as stopping off at smaller towns and seeing archaeological sites that date back a few millennia. After flying from London to Pakistan, visitors start their tour in Karachi, which is one of Pakistan's major cities. The city of Karachi was not properly developed until the 1800s, so it is one of Pakistan's more modern cities as well. One of the major attractions in the city is Mazar-e-Quaid, the tomb of Mohammed Ali Jinnah, founder of Pakistan. The mausoleum building is made of white marble and located within a park, with visitors commenting that the surrounding area provides a peaceful and tranquil environment.
Share this


Link to this
Printer Friendly