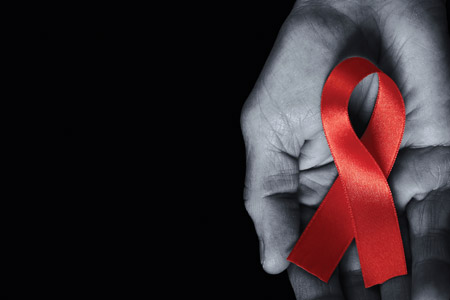 Behind the Reality
Issue 99 December 2012
Pakistan is in the grip of a drug addiction dilemma, which is also affecting the country's rise in HIV cases. Fatima-Zahra Khanum reports on what we can do to help the situation.
HIV, more formally known as the Human Immunodeficiency Virus is a progressive virus that harms the body's immune system, the body's natural defence, and its ability to fight infection. There are various routes to HIV transmission, and globally, the main route to transmission as with other sexually transmitted infections (STIs) remains primarily through unprotected sex.
Data from UNAIDS, the leading United Nations agency working to address HIV and AIDS, reveals that prevalence is already relatively high in many African and Asian countries with large Muslim populations. Pakistan's first reported case of HIV occurred in 1987. Although the Pakistani government has maintained a stance in addressing the virus since (albeit in its earlier days the focus, given the limited availability on data, was based largely on blood transfer amongst other things), today the number of people living with HIV/AIDS in Pakistan has grown to a shocking 98,000. (UNAIDS)
So how has drug use played a part in this? Globally, millions of people worldwide are injecting drug users (IDUs), and are prone to using infected needles that may have been used by others. This is an extremely high-risk route by which HIV is transmitted into the body. In Pakistan, HIV prevalence among IDUs has already significantly increased—between 2005 to 2008, it increased from 10.8 percent to 21 percent. The 2012 UNGASS Country Progress Report on Pakistan shows that the trend of a concentrated HIV epidemic among key affected populations in Pakistan continues to be driven by IDUs. Today the number stands at a shocking 27.2%. This is closely followed by another high-risk group: sex workers. The 'Hijra' (transgender) and male sex workers accounted for 5.2% and 1.6%, respectively, whilst female sex workers exhibited the lowest prevalence rate of 0.6%.
Whilst the HIV rate in Pakistan is not as high as in other parts of the world, these statistics give a worrying indication of the changing social climate of Pakistani society. The country, which is largely composed of Muslims, is predominantly governed by strong cultural etiquettes and a traditional emphasis on the importance of sex after marriage and the family unit. The latest statistics on the drug and HIV prevalence in the country reveals however that the country is not only facing high levels of drug use but is also in the grip of a growing sex industry, and one which has the potential to exacerbate the spread of HIV in the country.
Share this


Link to this
Printer Friendly