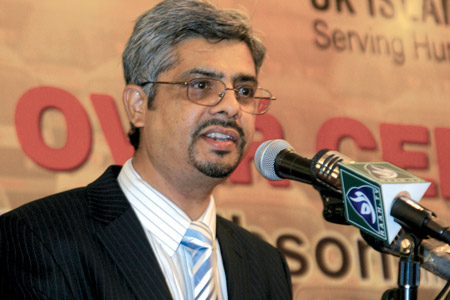 A week in the life of Zahid Parvez
Issue 99 December 2012
Zahid was inspired to get involved with community work by racism in the 1970s, and wanted to ensure Muslims didn't live in fear.
I came to the United Kingdom as a young child in 1964 from Kenya. Back then, the Muslim community was in its early stages, and many of the immigrant communities such as the Pakistanis, the Sikhs and the Jamaicans would all support one another, as each was new to the country. We would socialise with each other, but also protect each other from the growing trends of racism that were apparent at that time. From the Teddyboys to the Skinheads and then to the National Front that started to rise in the mid-70s, and Enoch Powell who gave his infamous speech—all this played on my mind for some time. I felt an inner drive that I must do something so that the community doesn't live in fear and is respected by mainstream society with dignity and honour.
As I began learning about Islam in my late teens and early 20s, I saw that Muslims themselves were very far from Islam. The Muslim community was building mosques and sourcing halal meat, but they were not living Islam as the religion had prescribed for them; in their everyday living, dealings and interactions with other people. These two things impacted me from a young age and got me involved in community work from a young age. I started off working with the local mosque, then UK Islamic Mission (UKIM) and their youth group, from there I went to Young Muslims and the Islamic Society of Britain, and now I am back with UKIM where I am President.
Every day brings new problems, issues, challenges and projects. For example, something may have come up at one of our branches and I will have to visit to address the issue, or give a talk at some gathering, or I may have to deal with fundraising, or I could just spend the day responding to emails and following up on administration.
As President, I am tasked with implementing the policies and plans provided by the Central Shura. I also have to propose new policies and plans, and once those are approved, I have to work with the committee to put them into action. We also have our ongoing activities, such as the running of mosques and madrassahs, as well as ensuring there are facilities for the youth and women. One policy that I proposed was providing extra-curricular activities for the children that attend our madrassahs. We have 5,000 children attending all over the country, but they would just turn up, recite Qur'an and leave. I suggested that we create a structured programme of activities for them, so that they develop good moral character and become part of our youth work.
Share this


Link to this
Printer Friendly