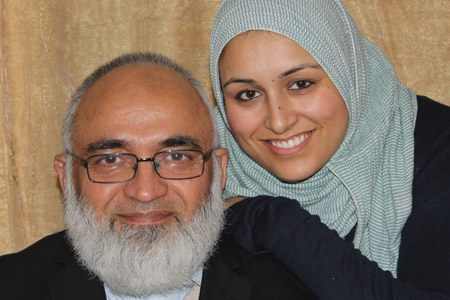 Community Values
Issue 99 December 2012
When Sajida was growing up, Muhammad Sarfraz would always encourage her to get involved in community initiatives.
Sajida and I have a brilliant relationship and we have always been close. She is my only daughter and I have always been very protective of her, naturally, though she may say a little too overprotective at times!
There are so many fond memories I have of Sajida's childhood. When she was two years old, we bought her a tricycle that had a little basket on it for Eid. I told her I would take her to the shop on her tricycle and she could choose another present, and Sajida said she wanted something big enough to fit in the basket. When we got to the shop, she pointed at a watermelon and demanded I put it in her basket. I tried to direct her attention elsewhere, but she was adamant that she wanted the watermelon. In the end I gave up and she slowly pedalled home with a watermelon in the basket of her tricycle!
I got involved with UK Islamic Mission in 1983. Sajida would come to the events when she was younger, but a lot of them were in Urdu and full of adults, so it was never much fun for her. Thankfully, things have changed now and we have activities for all age groups, with all talks in English. I have always encouraged my children to get involved in civic society, and they are all active in the community.
Sajida is such a free spirit and I really admire that quality about her. She is fearless—except in the case of spiders! —and her determination and will to go that extra mile for everyone never ceases to amaze me. She is also very family orientated, and tries to organise a family event once a week to get everyone together.
When she was growing up, we would encourage her to break the gender stereotype of a Pakistani female and let her do what she wanted to do. Sajida loved playing football, and was very good at it, so we encouraged her to play. Although there were some negative comments from people in the community, we ignored them, and supported Sajida to do her best and be what she wanted to be. Today, she is the Executive Director of Birmingham Citizens, a grassroots community organisation. I am very proud to be her Dad!
Share this


Link to this
Printer Friendly