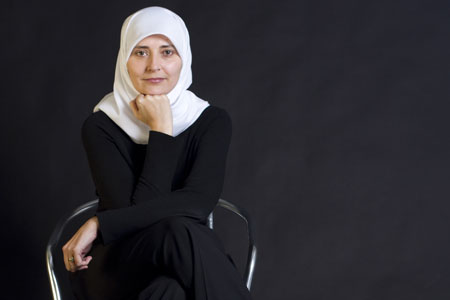 A Century of hope
Issue 100 January 2013
One hundred issues of emel. Our centenary. And like a cricketer reaching that score, it feels good, and is an opportunity to raise one's bat and acknowledge the achievement - something I was not always convinced that we would see.
One hundred issues of emel. Our centenary. And like a cricketer reaching that score, it feels good, and is an opportunity to raise one's bat and acknowledge the achievement - something I was not always convinced that we would see.
My husband and I put together the very first dummy in December 2002. It was called 'Life' and had on the front cover a smiling Muslim woman. I inserted pages into a blue ring-binder with headings such as Gardening, Interiors, Food, Inspired by Islam, The Big Interview, A Week in the Life of. I glued in pictures and articles cut out from magazines and newspapers, and wrote brief notes explaining the ideas that were brewing in my head. Upon that scrapbook of ideas—one that would not even pass for a school project—emel began. It took months of conceptualising, discussing, writing and rewriting to bring the first issue out nine months later, launching it at the Living Islam Festival in 2003. Now, at our 100th issue, I feel I have earned a moment to reflect.
Each issue is on average 30,000 words, which means we have produced three million words. We go through about 6,000 images every month to choose the 250 that grace each issue, which means we have looked at around 600,000 images. We probably hold the largest photo image bank on Muslim lifestyle. The hard copy of the magazine is read in over 60 countries, and our website has visits from every country in the world bar seven, and those countries have restricted internet access.
I did not put my name to the first editorial, nor the second. I was too nervous to publicly acknowledge my ideas. Things have changed a lot since then, for one grows in confidence. Naturally, the more one does, the more one learns. When you face your fears, and rise to challenges, your heart grows in strength. And there have been many challenges, in fact too numerous to outline here. Suffice to say that the challenges have been of almost every variety; physical, mental, emotional, spiritual, financial, and they have tested me to my very core.
But when I consider the impact, I am humbled. I cannot tell you how many times I have received emails and letters telling me of the influence of emel. Couples have named their children after people they have read about in our pages. People have journeyed to far flung places inspired by our travel stories. They have created charities after being motivated by beacon projects featured in emel. They have started projects based on ideas in the magazine. emel has been the catalyst for many other magazines, websites and businesses. The term Muslim Lifestyle that we created, that people puzzled at and even ridiculed, is now to be found all over the world. That said, I am not sure it is always understood with the full force of the vision that inspired it.
This 100th issue is a manifesto, of sorts. It outlines some of the thinking behind the decisions we have made. It explains why we include the things we do. It calls upon individuals, you the reader, to participate.
The journey of 100 issues has not been easy. Everything in life, every decision we make, has its price, and sometimes the price has been almost unbearable to pay. Would I do it again? The answer to that is not easy. Others have sacrificed, not just me. Family, friends, and successive emel teams have given of themselves above and beyond the call of duty. But would I personally do it all again? The answer has to be Yes. For me it has been an honour and a privilege to do this work.
I am sustained by the vision: showing the world that Islam has something to offer today; showing that Islam is for all people and for all time because it is capable of generating solutions based upon fundamental principles and eternal values.
It is this vision that will, God-willing, frame my future work. emel is not simply a magazine, it is—as its name alludes—an amal; a hope, an aspiration, a dream, for a world where people recognise their shared humanity and collaborate with each other, where The Beauty of the Divine is brought to manifest in our everyday lives, where confident people contribute to the common good and are connected to each other as well as to the Divine, where principle is not sacrificed at the altar of profits.
The Muslim world has a great gift—a young population. There is no substitute for their energy, vibrancy, and adventure. That all needs to be harnessed and channelled. Not in the reproduction of seventh century Arabia, neither in the reproduction of 21st century Western culture. We need to develop a lifestyle which is authentically Islamic, and also capable of solving the problems of our contemporary world.
The past decade was about defining the problem and allowing, within the pages of emel, the principles of a contemporary Muslim lifestyle to emerge. The next decade has to be about incubating talent capable of providing solutions, and then creating the structures to implement those solutions. This next phase has to be about seeing the vision fully born. I pray that God grants us all the means and the heart to achieve this.
https://www.yohoman.com/Apperal/Underwear/
Share this


Link to this
Printer Friendly