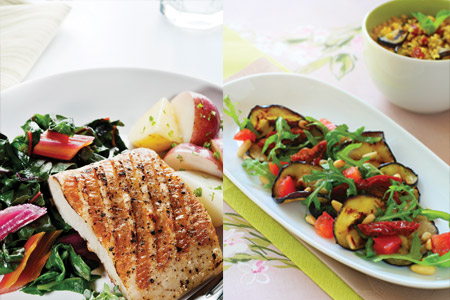 Food Recipes
Issue 100 January 2013
We'll take you through some recipes that will tantalise your taste buds from fish dishes, traditional rack of lamb followed by cherry brownies and much more.
Fish
Seafood is a healthy and nutritious option for any meal choice and makes a lighter alternative to meat. However it is important to consider some important facts about the fish you choose. More than 70% of the world's commercial marine fish stocks are either fully exploited or overfished. When choosing your fish, opt for sustainable fishing sources, and a list is readily available from the Marine Conservation Society. Fish that are safe to buy include dab, pouting, and organic, farmed salmon, to name a few. Conservationists recommend trying a wide range of fish as it prevents overuse of one fish stock, and is a crucial method for maintaining current fish stocks and protecting dwindling species. It can also be a great way to try out new recipes and find something you may never have thought you would have liked. And finally, make sure it is line-caught fish, as line-caught pollack, black bream, and sea bream are among some of the best white fish alternatives to cod.

SPICED AND GLAZED HAKE ON A BED OF SALAD
Ingredients
50g butter
4 fillets of hake or firm white fish
1 bunch sliced spring onions
For the salad
2 sharp, slightly sweet apples, thinly sliced
75g extra-mature cheddar, thinly sliced or roughly broken
100g baby spinach
1 chicory, leaves picked (about 100g)
50g alfalfa sprouts
35g sunflower seeds, lightly toasted
For the dressing
2½ tbsp cider vinegar
¾ tsp wholegrain mustard
1 tsp honey
½ clove garlic, peeled and crushed
Salt
4 tbsp good-quality sunflower oil, or a mixture of sunflower and walnut oil
Method
1. Melt the butter in a pan and cook the sliced spring onions for 3-4 minutes until soft.
2. Lay the 4 fish fillets on a buttered tray, skin side up. Brush with melted butter and grill.
3. To make the dressing, in a medium bowl, whisk together the vinegar, mustard, honey, garlic and an eighth of a teaspoon of salt. Whisking continuously, slowly pour in the oil until emulsified, then set the mixture aside.
4. Put all the salad ingredients in a bowl and, just before serving, pour over the dressing and gently toss through. Place the grilled fish and serve with the salad.
Vegetarian
We've all been told to eat our greens at some point, but choosing a vegetarian option is not only a healthy addition to your diet, but in an age of overconsumption of meat, it is also an ethical choice. Over recent years, reports have suggested that the world has to change its patterns of consumption with specific regard to meat. The high demand of meat has led to a need to produce stocks at any cost, often at great detriment to the environment. Vegetarian meals have moved leaps and bounds away from a basic and bland lettuce salad, and there are now an array of recipes available which use flavoursome and interesting combinations whilst including several nutritious ingredients to supplement your diet.

SMOKY AUBERGINE SALAD
Ingredients
1 aubergine, thinly sliced lengthways
3 tbsp olive oil
Squeeze of lemon juice
Pinch of paprika
2 tsp chopped dill
1 tbsp toasted pine nuts

Method
1. Heat a large frying or griddle pan over a high heat. Brush the aubergine slices with oil.
2. Season, then fry until browned on both sides, about 8-10 minutes.
3. Remove from heat, then tear or chop into small pieces. Season with salt and pepper.
4. To make the dressing, combine lemon juice, paprika and half the dill in a bowl.
5. Drizzle dressing over aubergine and toss. Divide between two plates and put then scatter with pine nuts and the rest of the dill. Serve as a side or part of a mezze.
Eggs
Eggs are highly nutritious and an extremely tasty and beneficial addition to a balanced diet. The important thing to note is the use of free-range eggs, as they are environmentally friendly and go against the notion of battery farms. Free-range eggs are laid by hens that have the opportunity to roam around outside and are kept in much better environments. Eggs don't have to be a boring breakfast choice; there are a variety of ways of preparing eggs from boiled to poached, to on a pizza or layered in a burger, the options are endless.
SPICY MINCE WITH POACHED EGGS
Ingredients
2 onions, chopped
50g butter
3 tbsp vegetable oil
6 whole cloves
6 whole black peppercorns
1 inch piece of cinnamon
1 tbsp coriander seeds
2 tbsp cumin seeds
1 tbsp garam masala
1 tsp turmeric
1 tin plum tomatoes
2 -5 finger chillies, chopped
5 cloves garlic
2 inch piece of ginger root
3 tsp salt
500g very lean lamb mince
1 small cup frozen peas
4 poached eggs
Method
1. Roast the cumin and coriander seeds in a dry frying pan until fragrant and then grind in a pestle and mortar or a spice grinder.
2. Melt the butter with the oil in a large pan and add the onion, cloves, cinnamon, and peppercorns.
3. Cook, stirring occasionally, over a medium high heat until the onion is well browned.
Share this


Link to this
Printer Friendly