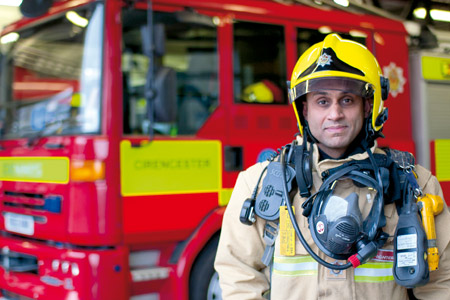 Real Lives: A week in the life of....
Issue 100 January 2013
The Muslim community is incredibly diverse, and we have featured those that have interesting jobs or lead exciting lives.
The idea behind the Week In the Life Of section was to feature Muslims around the world who have interesting jobs or lead exciting lives. The Muslim community is incredibly diverse and we need to break the stereotype that we are all doctors, accountants and lawyers! In this section, we have featured a trumpet player, a helpline worker, a television presenter, a marine biologist and a martial arts instructor, amongst many others who have noteworthy occupations.
Faisal Atcha works as a fire fighter three days and nights a week, as well as for a community organisation, where he is involved in getting people to lead a more active lifestyle and pursue outdoor activities. Faisal recently helped the organisation to acquire an inner-city farm and was hoping to get young people to grow their own food on the land. Not satisfied by all of this, he also keeps birds of prey, which he tends to every morning after fajr.
In 2007, we featured Diane Reeves, who worked in East London as a Police Community Support Officer. She would patrol the streets in a team and deal with small offences being committed, such as cycling on the pavement, to help improve life for the local community.
As the Mosaic Project Officer for a number of England's National Parks, Kabeer Bostan is involved in recruiting Champions from ethnic minority communities, who can then encourage their communities to use the facilities that the parks offer. Kabeer was inspired to work in this field, when he visited Kashmir as a young boy and fell in love with the beautiful countryside there.
Share this


Link to this
Printer Friendly