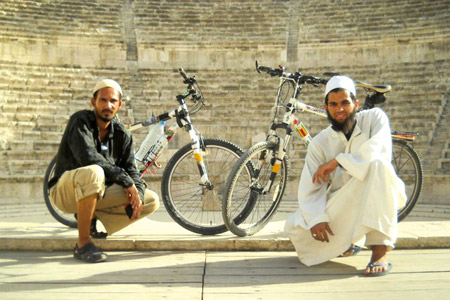 Real Lives: Kith&kin
Issue 100 January 2013
Our friends and family are there to support us in our endeavours, but often we will share hobbies and interests with them, as well as embarking on adventures together.
One of the things that we can be thankful for in life is our friends and family. We may meet our friends when we are in young in school or college and some will remain loyal to us for many years after. Some friends decide to embark on adventures together to discover new experiences and visit new lands. Friends like Nathim and Imtiyaz, who decided to cycle from Cape Town to Makkah to perform Hajj. Past scholars who undertook long and arduous journeys to visit the Ka'ba inspired Imtiyaz to suggest the journey to Nathim, and along the way they conquered the hills of Mozambique, spent time with calligraphers in Istanbul and met a group of Sufis in Syria.
Sometimes we can meet new friends through the strangest of circumstances. Ali, a Palestinian, and Robi, an Israeli, had both lost loved ones in the conflict and were part of the Bereaved Families Forum, which aims to create a framework for peace in Palestine and Israel. They met when they appeared on a radio show together, where they both spoke about their experiences. Robi's son was killed in Palestine and Ali's brother was shot by an Israeli soldier. They bonded over their hope for peaceful reconciliation and have developed a strong friendship.
Like Ali and Robi, Aisam and Rohan also came from two different nations who have had their tensions. Aisam comes from Pakistan and Rohan from India, and both are professional tennis players who met at a tournament. They became doubles partners and reached the final of the US Open in 2010. That year, they also launched the 'Stop War, Start Tennis' campaign to unite the people in their countries through sport.
Whatever we choose to do in life, we can always count on our family to support us. Whenever we go through difficulties, our families are usually the first to comfort us and help us get through struggles in life. We have featured some interesting family relationships in our Kith and Kin section, such as two brothers who launched an Islamic comic book, two sisters who were born blind and work to highlight disability issues in Canada, and a brother and sister who told us about how they managed to stay strong after their parents passed away. Hamza and Husain are brothers who both played American football in the NFL. The chances of playing in the NFL itself are slim, but to have two brothers from the same household is even slimmer.
Share this


Link to this
Printer Friendly