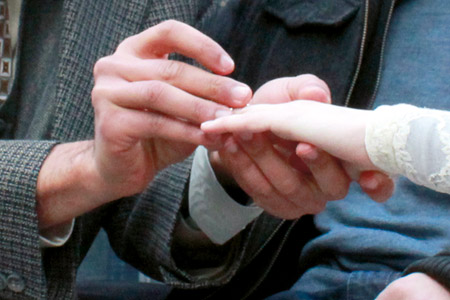 Real Lives: Marriage
Issue 100 January 2013
Muslims are encouraged to get married, and every couple has a unique story, whether it be through how they met, how they live their lives, or the challenges that they have faced.
Islam places a great importance on marriage as an institution, and it is seen as the foundation of society and family life. Marriage creates the right environment for people to share love from the most mundane expressions to the most intimate ones. It is an alliance of two imperfect people, one who never remembers birthdays and one who never forgets them. These opposing traits make marriage fascinating.
Each couple has their own unique marriage story. They may have met through strange circumstances, their lives would have changed as a result of getting married, or they may have gone through some challenges together. In our Marriage section, we have tried to cover as many of these interesting stories as possible to illustrate the breadth of contexts in which these unions can take place.
One story we told was that of Micha and Emery, who met at the Occupy Wall Street protests in late 2011. They first met one another through a mutual friend when they were both looking for a place to pray during the protests, and after getting to know each other better, they decided to get married. They even held the ceremony outside in Zuccotti Park, where the protests were taking place, in recognition of the place where they first met.
Amina first came across Rakin when she attended a rap gig where he was DJing, which was before they both embraced Islam. When they spoke for the first time a few years later, Rakin introduced Amina to Islam and she took her shahada a week before they got married. For their wedding, they both wore traditional African attire and had the ceremony at a Shaykh's house in London with 20 of their closest friends.
Share this


Link to this
Printer Friendly