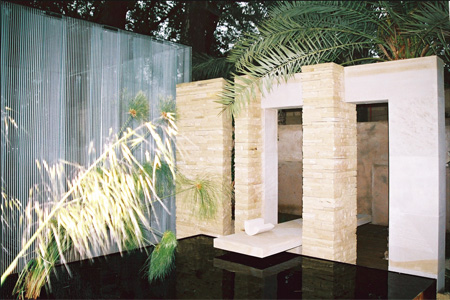 Garden from the Desert
Issue 6 Jun / Jul 2004
First Published on July/August 2004
To access the issue page, click here
Words Samia Rahman
Photography Taus Makhacheva

When His Highness Shaikh Zayed Bin Sultan Al Nahyan became the ruler of Abu Dhabi in the 1970's, one of his aims was to transform the landscape of the desert through vibrant and lush planting. This desire for 'greening' the desert went against the advice of sceptical international experts who felt that growth in such an arid territory was impossible. But His Highness was not deterred, he set about planting ona large scale and there are now more than 150 million trees in the UAE which is now also home to thousands of farms exporting citrus fruit and vegetables to European markets. This was achieved through a combination of an ultramodern drip with traditional irrigation techniques - including the ancient aflaj system - ensuring that orchards, cereal and vegetable fields, flowers and forests flourish in every corner of the country.
Garden designer Christopher Bradley-Hole was commissioned by Shaikh Zayed to create an abstract expression of Abu Dhabi and its desert origins for the Chelsea Flower Show in 2003. He developed this concept by showcasing stone,sand, water, grass and salt.
Botany and cultivation, geology and geo-technology, forestry, horticulture and agriculture are all disciplines that have influenced the design, choice of materials and plants for Garden from the Desert. Encompassing dry stone walling, a particularly distinctive aspect of the English countryside, within a desert context, the garden also has as a main piece the date-palm (Phoenix dactylifera) which has become iconic in the United Arab Emirates. The tree is shade-giving, salt tolerant and acts as both a wind buffer and soil stabiliser.
The occurrence of salt coupled with the importance of water is a recurring theme in the garden which is organised into spaces representing two distinct areas. The natural desert has simple planting with Mediterranean legumes such as Spartium junceum, Cytisus sp., Asparagus sp., Ziziphus jujube and Genista actremis selected for their ability to grow out of sand. This is juxtaposed with cultivated, abundant desert laden with a base level of fennel and lime green flowers punctuated by the vivid shades of Irises, Poppies andKnautias forming a rich layer from whichthe sand-coloured flowers of Stipa giganteanemerge, fed by irrigation channels.The water course is formed from several long pools set on a graduation of levels to form a simple cascade. Another series of metal frames are reserved for perennials which bring touches of colour. A pivotal feature is a 3.6m (11.8ft) cubeglass pavilion. This represents the salt and desalination process that is such a feature of Abu Dhabi's salt pan landscape. Thereis a multilayered symbolism here as glass is made of silicon and sand, and the chemical symbol for salt is a cube.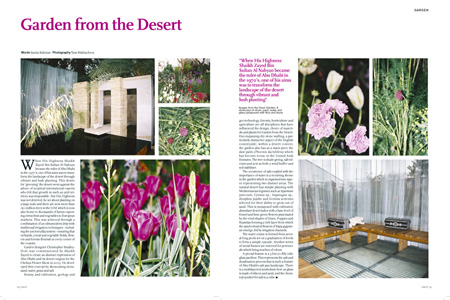 Share this


Link to this
Printer Friendly