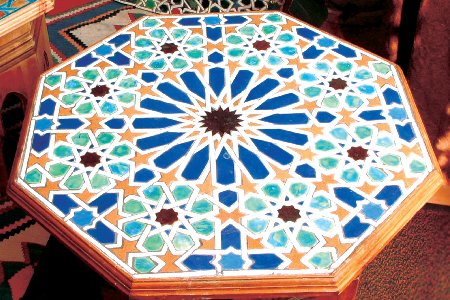 The Flowering of the Desert
Issue 2 Nov / Dec 2003

From an original and eye catching finish, brighten up your home using Islamic mosaics.
Islamic arts and crafts are characterised more than anything by the highly intricate geometrical patterns which are exemplified in the art of mosaic. Along with calligraphy and the arabesque, geometry is one of the three elements which make Islamic art unique and distinct. Islamic artists developed traditions inherited from the Near and Middle East to new levels of sophistication and importance. They were strongly influenced by mathematical discoveries occurring throughout the Muslim world, and turned the art of geometrical design into a science, each pattern being generated by a unique and complex system of numbers.
Pure geometric designs take as their starting point the circle, symbol of eternity and wholeness, and from this derive three basic shapes, the triangle, square and hexagon. The skill of combining and overlaying these shapes in different ways gives the elaborate and beautiful designs we see today all over the Muslim world. Vegetal ornamentation, too, is frequently stylised and abstracted to a degree that it becomes a geometric design, fluid, infinitely repeatable and free from tension. It is widely held that arabesque plant forms reflect Islam's close connection with nature and the garden - the earthly reflection of Heaven - and that the logic and unity of geometric forms is a metaphor for the order of the universe and the unchanging laws of God. Certainly one of the most common figures to appear in geometric designs is the six-pointed star, created from the combination of a hexagon and six triangles.
Get the look...
To create your own original geometric designs,www.trustytime8.com log on to www.lsdfjlsdjf.co.uk for a downloadable do-it-yourself guide. Or do it the traditional way, with a rule and compass. You can place a mirror along the lines of symmetry to help you.
Use traditional Islamic colours such as blues, turquoise-greens, whites, blacks and warm browns, or experiment by adding in new colours.
Use white as a base colour for walls, ceilings and bathroom suite.
Keep a balance between heavily decorated areas of mosaic and the plain background – in a small room entire walls of mosaic can be overwhelming. For a more striking look, set panels of mosaic against a white background.
Use a dark wood such as shesham or mahogany for bath surround, floor and skirting boards.
Complement the hard surfaces of your bathroom by bringing in some textiles. Elaborate sari fabrics and shesha glass embroidery look very effective framed on a wall, or made into a blind or throw-over.
Plants such as ferns thrive in moist, shady bathroom conditions. Contrast these organic plant-forms with arabesque decoration on a ceramic pot – or buy a cheap pot from the garden centre and mosaic it yourself. Use silvers and mirror tiles to complement the dark foliage.
There are plenty of ways to experiment with mosaic on a smaller budget. Try cutting tesserae out of a sheet of coloured plastic or lino. Disco balls are a great source of mirrored tiles at a fraction of the expense – simply peel off the squares. Mosaicing shelves, mirrors and bathroom cabinets is a great way of giving your bathroom a quick and inexpensive make-over. Where to buy...
Hobbycraft (www.hobbycraft. co.uk) has 20 stores across England and is the cheapest outlet for mosaic tiles.
Larger B&Qs also have a (less extensive) range of tiles, and all branches stock a variety of coloured grouts.
Mosaic Workshop (www.mosaicworkshop.com; 020 7272 2446) is a magnificent emporium of tiles in a marvellous range of colours. It is not the cheapest option but, with stores at Holborn and Holloway Road in London, is well worth investigating if you are in the capital. As the name suggests, they do workshops too.
For further inspiration, look at Ornament and Decoration in Islamic Architecture by Dominique Clevenot. Packed full of stunning colour plates, it is a real joy to browse through, and justifies the price of £25.20 from Amazon.
Share this


Link to this
Printer Friendly