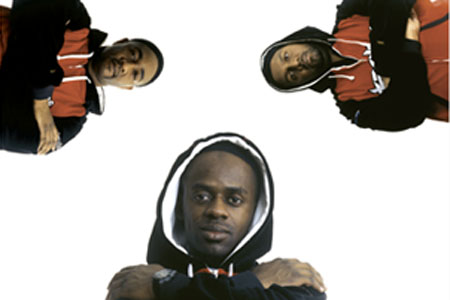 Muslims in the House
Issue 8 Nov / Dec 2004
First Published on November/December 2004
To access the issue page, click here
"We as Mecca2Medina have been approached by a major record label that was interested in signing us but they insisted we didn't mention Allah so much in out lyrics. Can you imagine that?! Without Allah there is no Mecca2Medina!"
They look like your average rap group until you hear them shout 'Muslims in the houuuuse!' and then you know that there's something different about these guys.
'Brothers and sisters welcome on stage Mecca2Medina' the presenter's voice echoes around the auditorium. Three young men come bounding on stage. They look like your average rap group until you hear the shout 'Muslims in the houuuuse!' and you know there's something different about these guys. The mood in the concert hall immediately changes, the two thousand strong audience know it's time to have some fun.
The story began in 1996 when the rap trio came together. The decision to form the group was not a light one. Although Rakin, Ismael and Abdul-Karim were all involved in music prior to becoming Muslims they were not sure if it was Islamically appropriate for them to carry on. It was only after seeking advice they pursued this path. "We were fortunate to have the opportunity to study Islam with a Sheikh who explained to us that we should carry on with our music but come with a positive message, talking about the Prophet Muhammad and our experiences as Muslims".When asked why they decided to use rap as a means of expressing their beliefs the answer comes simultaneously, "because we can't sing," shortly followed by an eruption of laughter. This is Mecca2Medina at their sharpest. Abdul-Karim gathers himself to explain that this is the way to connect with people on a grass roots level, "rap and raga are the voices of the street; this is what young people are listening to." The group are also conscious of the important role black music has played throughout history in compelling young people from all walks of life to take pride in their identity.
Modern day rap for many is seen as a genre of music that glorifi es violence, materialism and promotes misogyny. Mecca2Medina are well aware of this reputation and are quick to point out that even though rap is synonymous with negative messages it is the corporations that fuel this. "Record companies demand these explicit lyrics. Underground you fi nd a lot of positive rap but commercially the companies are asking for rappers to talk about money, women and this so called 'bling, bling' culture. They are openly supporting negativity because gangster rap is what sells." The guys themselves have been on the receiving end of this, "we as Mecca2Medina have been approached by a major record label that was interested in signing us but they insisted we didn't mention Allah so much in our lyrics. Can you believe that?! Without Allah there is no Mecca2Medina and this is what we have to deal with."
The group have also had to overcome people's preconceptions of rap. Initially Muslim audiences were conversation. Rakin acknowledges that Mecca2Medina have faced racism from the Muslim community, "racism usually comes from the elders and it's mainly because some of the elders are stuck in their ways. A Sheikh once said to me 'Allah made us into tribes and nations so we may get to know each other' but unfortunately some Muslim don't want to do this. We have left certain Islamic teachings and adopted nationalism, where everyone identifi es themselves with a specifi c country and do not socialise with people with different nationalities" On a positive note Ismael is keen to point out that there is also a great deal of love from the Muslim community and it is because of this support and encouragement that they are able to do what they are doing.
Mecca2Medina have been innovative and insightful in catering for both Muslims and non-Muslims through their music - a diffi cult task to achieve. "It's been a challenge for us; we have been trying to hit both markets. For a long time we were focusing on establishing ourselves within the mainstream, trying to target people who listened to hip hop and giving them the opportunity to hear positive messages. It is only in the last few years we've been concentrating on nasheeds." From the West looking East and African Sounds are the group's fi rst successes in the nasheed arena. The Mecca Experience album is hard hitting in lyrical content, one good illustration of this is the track Trust Me which deals with the lust for materialism in society and the detrimental effects that result. These words of wisdom are complimented beautifully with an amalgamation of infectious beats and slick production. This is socially conscious rap at its best and it is this popular formula which over the past few years has gained them widespread recognition especially within media circles. They have performed on all major UK TV channels and most recently did a performance for the BBC World service to coincide with the opening of the new London Muslim Centre in Whitechapel. Mecca2Medina are not only a group who are aware of the issues facing the Muslim community but are actively involved in projects for the benefi t of society. Abdul-Karim explains the many ways Mecca2Medina are making a difference, "the projects we are involved with range from drug awareness talks and seminars in schools to working with a women's group called Al-Nisa Society where we hold nasheed and rap workshops. We also visit local prisons to perform and give dawa. Some prisoners are shocked to fi nd out we are Muslims because they don't expect Muslims to look like us. Aside from Mecca2Medina this is the contribution we make to our community."
The guys have a busy year lined up. they are currently involved in setting up their own record company Dawa Media which Rakin hopes will be at the forefront of Islamic music and have just released their new album Revolutionary Rap. The group are active in nurturing new talent; there are six new artists Mecca2Medina are hoping to introduce to the public and if that wasn't enough the guy's are also planning a UK tour so watch this space as Mecca2Medina could be coming to a city near you!
Share this


Link to this
Printer Friendly