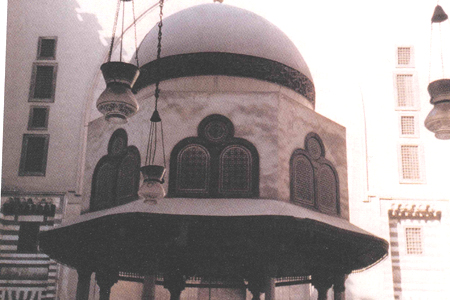 Captivating Cairo
Issue 3 Jan / Feb 2004
By Lorraine Abdel Hamid
Cairo is a city of extremes that has been the top of traveller's and empire builder's wish lists for centuries. A visit allows you to peer into Egypt's complex past of contrasting civilizations and personalities – the Pharaos, Salah Al-Din, the Fatimids, and the Ottomans, to name a few. If you are looking for a mix of serious site seeing, shopping and good humoured chaos, then Cairo is the destination for you. With endless things to do, the main challenge is cramming it all in. Here are the 'must do' highlights.

Islamic Cairo
Islamic Cairo has is an ancient labyrinth of dazzling mosques, madrassas, mausoleums and bazaars. The area is best visited on foot – wander around and contemplate the famed visitors who have preceded you. Start early in the morning to avoid heat exhaustion.
Salah Al-Din's Citadel and the Muhammad Ali Mosque: Salah Al-Din (Saladin) built his spectacular fort in the 12th century. The complex now includes the impressive Ottoman mosque of Muhammad Ali. The high vantage point also affords panoramic views across Cairo.
The Mosque of Ibn Tulun: the simple grandeur of this vast 9th century mosques makes it the most aweinspiring of the city's places of worship. Climb the minaret and watch the sunset beam golden light onto the graceful sandstone structure.
Madrassa of Sultan Hassan and Mosque of Rifai: the 14th century madrassa is a surprising complex of dark rooms with a delicate prayer courtyard at its centre. Four doors lead off the courtyard, each one to a college of one of the four schools of Islamic thought. Next-door is the 19th century Rifai mosque, famous for its marble décor and bizarre mix of tombs. The two buildings have the best muezzins in Cairo; stand in between them during an adhan to hear fantastic acoustics as the muezzins echo each other and their calls bounce off the soaring walls around you.
Al-Azhar Mosque: founded in 970AD, this is the oldest university in the world. Visit to imagine how some of Islam's greatest thinkers rested against these very pillars before they went on to influence history (Ibn Khaldoun, Ibn Battuta, as well as Yusuf Al-Qardawi studied here).
Museum of Islamic Arts: a collection of artefacts spanning the 17th to 19th centuries of the Islamic world. Woodwork, lanterns, ceramics, glass and calligraphy all feature.
Pharoah's Cairo
You cannot afford to miss viewing the relics of an ancient civilization that was busy designing logic-defying buildings (mostly to bury people in) several millennia ago. The infamous Pyramids are at Giza, some 45 minutes by cab from Midan Tahrir. For evocative views and to avoid the worst crowds, catch the outdoor monuments at dawn or dusk and visit the museum early in the morning.
Pyramids of Giza: built in 2500BC, the great Pyramid of Giza is the most intact of the Seven Wonders of the World. You can go down a passage of whichever pyramid is open each day (but it is very humid). The nightly Pyramids sound and light show is entertaining, albeit a bit overdone.
Museum of Egyptian Antiquities: too much to see, but don't miss the treasures of Tutankhamun, and a tour of Mummy rooms, including the Mummy of 'Musa's Pharaoh' (son of Ramses I).
Sailing down the Nile: a welcome afternoon chill-out can be planned by hiring your own traditional Felucca. Taking one of the large-sailed, openair boats from Maadi (south Cairo) is best. Here the river is most peaceful and as you sail between the river's bulrushes, you can almost imagine the basket with the baby Moses floating down the river here.
FAMOUS EATS & DRINKS

Cairo has a good selection of anything from Kofta to KFC. Try local specialities
• Kebabs at Abu Shaqras – an old Cairene favourite. Reasonably priced, branches over the city.
• Fuul and falafels at Felfela – the staple meal of beans and falafel make a cheap and filling lunch. Branches all over Cairo.
• Kushari at Lux – a unique meal of rice, green lentils, topped with macaroni and rich tomato sauce and piercing vinaigrettes and onion. Try it at Lux Babil-Luq, near Downtown Cairo.
• Juice bars – freshly squeezed fruit juices offer a needed sugar fix for touring in the city heat, stick the outlets in Downtown Cairo.
• Coffee houses – down a strong coffee and join in the national pastime of people watching. For authentically you cannot beat Fishawis in Khan Al-Khalili

BARGAINING WITH THE EXPERTS

Cairo shopping offers bargains for the brave haggler, but beware of the usual tourist traps. Either way, the competitive exchange rate (around 12 Egyptian pounds to one sterling) makes anything seem cheap. Best buys are:
• Cloth at Khiamiyyah, the tentmakers bazaar – specialises in dazzling appliqué patterned cloth, cushions and rugs.
• Aladdin's cave goodies at Khan Al Khalili – the ancient souk is good for quality bronze, glass and silverware. Mashrabiya and mother of pearl crafts are impressive. Spices, perfumes, leather and papyrus very in quality.
• Qur'anic recitation recordings – Egypt has some of world's finest qaris (recitors). Kiosks and shops off Muski Street have the best collections.
• Books – many works in English and Arabic, including Islamic and Arabic literature classics are at Al-Shorouk bookshop in Midan Talaa Harb, Downtown. Breitling Replica Watches
KIPPING IN CAIRO

Staying in the modern, Downtown area offers a central setting with good amenities and transport links, but good hotels are dotted all over. Budget permitting, it is best to ensure air conditioning in the room. Shop around before booking. Favourites include
• Pharao grandeur – the 5 star Mena House Oberoi hotel (383-3222) has rooms overlooking the Pyramids, Luxury overlooking the Nile also at the Cairo Marriott, Zamalek (340-8888)
• Downtown comfort – the Cosmoolitan hotel (392-3956) is a good 4 star. Pensione Roma (391-1088) is a basic 3 star.
• Lively Islamic Cairo – it can be noisy. Best rooms in the 3 star El-Hussein Hotel (591-8664).
• Backpacker chic – Dahab Hotel (579-9104) offers dorm beds in tiny rooms built on the roof of a downtown block, dirt cheap.

GETTING THERE

Direct flights from Heathrow with Egypt Air (www.egyptair.com) and British Airways (www.ba.com). Cheaper indirect routes with Olympic Airways (www.olympic-airways.gr), KLM (www.klm.com) and Air France (www.airfrance.com).

For more information on hotels and sites visit www.egypt.com and www.virtualtourist.com.
Photographs courtesy of the Egyptian tourist board unless otherwise credited.

Share this


Link to this
Printer Friendly