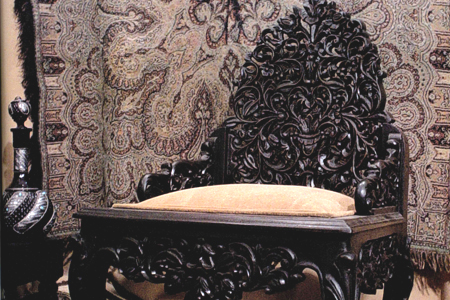 Mughal Interiors by Mohammed Bhana
Issue 3 Jan / Feb 2004
Mohammed Bhana invites you to create a stunning Mughal style interior on your own home
A Mughal interior design need not to be stereotypical caricature. It is possible to capture subtle influences and recreate a resonant design with a contemporary feel. Create a space that celebrates the exuberance of passion, a place of opulent beauty tempered by an aura of contemplation and reflection that personifies the Mughal way of life.
The strong use of rich and multi-layered geometric patterns exemplify this look. The room should exude the calm elegance of a visual historic journey. The decorative potential of light and shadow is vital in Mughal design which typically distils the boldness of vibrant colours in an expression of nuance, hue and pigment variation.
Do not limit yourself to using traditional materials; have a go at experimenting with calligraphy or even decorative steel (prayer room). You can attempt to create your own geometric patterns and even mix calligraphy with geometry. The creative possibilities are endless as it is these geometric features that display the rich depth of emotion harnessed by the Mughals to create beautiful statements inspired by something simple that eventually becomes a masterpiece.
All the above will give your room a contemporary Mughal identity ideal to entertain friends and family in. so why not absorb the Mughal influences and transport yourself deep into this magnificent culture and into the heart of a Muslim empire that still intrigues many.
Mughal influences are very much evident in the UK. The most celebrated examples are the Royal Pavilion in Brighton built for King George IV and Leighton House in London, home of the Victorian artist Lord Leighton.

One can also bring a traditional Mughal style to your home with handmade wall coverings, chairs, bedding, interior design and decorating, along with the world famous Mughal Miniature art.
Mughal Miniature art is held in high regard by artists all over the world. A traditional Mughal room would be incomplete without examples of this. The greatest example of this art form is illustrated in the first autobiography in Islamic literature: the memoirs of the great Mughal emperor Babur (1483-1530) which illustrate how Babur conquered India, and his sense of awe and appreciation of beauty in the world around him in the form of miniature art.
Tribal Monsoon is an online retailer and wholesale supplier of handmade crafts and home decor from India, Pakistan and Asia, including homemade wooden furniture, Persian rugs, Indian bedding, decorative throw pillows, wall tapestries and cashmere shawls. The ethos of the company is to help preserve a unique creative cultural heritage by connecting artisan communities with arts and crafts enthusiasts worldwide.
According to Faisal Butt, President of Tribal Monsoon, "by promoting cottage industries of South Asia and beyond, we help support the global community of artisans and help keep ancient traditions alive. Through this vital economic link, we hope to help improve the economies and living standards of artisan communities in Asia which are some of the most impoverished in the world."
Share this


Link to this
Printer Friendly