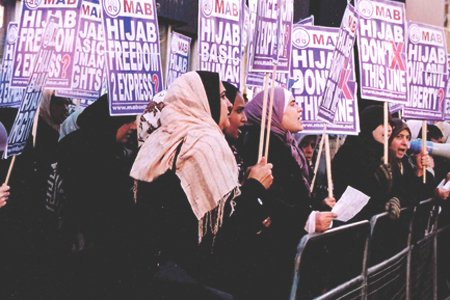 Coping with a piece of fabric?
Issue 3 Jan / Feb 2004

Knightsbridge with its exclusive parade of shops including Harrods and Harvey Nicholls seemed an unlikely place for 200 hijabed women to form a picket. But as Knightsbridge is also home to the French Embassy there was an impassioned context to their calls.
French legislation currently underway to ban all religious symbols in schools is primarily directed at the hijab- seen as a major threat to France's sacrosanct secularism. That English Muslim women felt it necessary to protest is indicative of the depth of feeling that the issue is arousing.
"We see it as our duty to protest here. They are our sisters. I don't know what I would if I couldn't wear my scarf. It would be very hard for me," said Ayesha Shah who had come down from Birmingham for the picket.
Her friend, Leila Rahim, expressed concern that the ban could spread, "the hijab is being banned in France and also in some states in Germany. If Europe unites more maybe it could get banned here. I just don't understand what they are so afraid of – is France not strong enough to cope with a piece of fabric?"
There is no denying the tangible anger and hurt that the French decision is having on Muslims in Britain. The Muslim Council of Britain condemned the French decision which Secretary General, Iqbal Sacranie called on to be, "revoked without delay as it represents a clear violation of the rights of the individual."
A delegation from the MCB met with Foreign Office Minister Mike O'Brien to, "call upon the British government to raise the matter urgently with its counterparts in both Paris and Brussels."
Mr Sacranie praised Britain's attitude to the hijab in stark contrast to the French. "We should inform President Jacques Chirac about how diversity in Britain has enriched this nation just as it would certainly enrich France. The Hijab as not in any way threatened Britain; it will not endanger France either.
Banning it, however, will send a strong signal throughout the Muslim world that the French Government is intent on revisiting its dark and brutal days in North and West Africa. We hope this is not the case."
You can email the French President directly at the following website www.elysee.fr/ang/ecrire/mail_.htm
Share this


Link to this
Printer Friendly