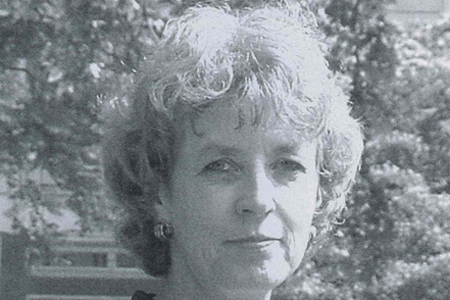 Table Talk with Dr Rosemary Hollis
Issue 3 Jan / Feb 2004
Rosemary Hollis is a leading exponent in International Relations and has become a respected and trusted authority in Middle East affairs. She talks to Samia Rahman about her passion for Political Science and her fascination with the debate surrounding democracy and Islam.
Hollis is a graduate of War Studies, having studied for an MA in the subject at London's King's College. The combination of an interest in conflict issues and fascination with Middle East politics prompted her to study for a doctorate. She gained her PhD in the United States, where she also held a university teaching post for eight years, before returning to the UK.
It is in the field of Political Science, however, that Hollis has made her mark. As she explains, "The advantage of political science is that it teaches people to think analytically. To articulate and spell out assumptions and employ scientific methods in order to make sense of a situation." The insurgency in Iraq is a case in point, "political science emphasizes the fact that although there may be parallels between a past and present conflict, for example between Afghanistan and Iraq, the same economic formulae cannot be applied to all contexts. In other words one size does not fit all."
According to Hollis, the most positive initiatives undertaken by people in her field involve working with and understanding the people and environments they are studying. "The controversy rumbles on whether 'Area Studies' is a good or bad discipline. In fact it can be branded old-fashioned Orientalism to can say that Muslim countries are 'different' from us. Even the neo-conservatives in the US have jumped on the bandwagon, declaring that it is racist to that Muslims 'can't do' democracy. However, that argument suits their purpose and my view is simply that there is no contradiction between Islam and democracy."
Hollis points out the dangers of imposing concepts borne out of Western values that do not take into account differences between societies. "It does seem sensible to understand appreciate the context in which cultural conflicts take place. This means being aware of the social practices and conventions unique to every society." When asked whether cultural relativism is practical, Hollis says she is wary of seeking to apply one universal standard everywhere. In particular, she does not believe that human rights norms can be imposed through external interference."
Take for example the Saudi practice of amputation to punish theft and stoning to death in case of adultery. I am not condoning or condemning these practices, but want to be guided by local human rights activists and support them rather than pronounce judgment from the outside."
On the issue of pronouncing from the outside, Hollis remarks on the symbolism of the veil during the campaign against the Taliban. "Getting rid of the burqa became a fashionable justification for war and everyone seized upon it. But in reality what has actually changed now that women are not forced by the afghan government to wear the veil? Very little outside of Kabul."
Hollis is enthralled by the complexities that entwine Islam and the issue of democracy. "The debate surrounding Islam and democracy that is being played out in Iran is deeply fascinating. There are unprecedented challenges being posed in the context of Shi'a religious politics. During the course of my research I defer to scholars and activists in Iran as to how the mix works and one conclusion I can draw is that it would be a huge miscalculation for the West to intervene in any Islamic revival. They made a grave mistake already backing the Algerian authorities when they cancelled elections to head off the Islamists back in 1991."
Suppression of Islam is a factor in the birth of extremism, but for Hollis extremism exists on both sides. "With the phenomenon of al-Qaeda you have the most extreme proponents of violence who fight in the name of Allah. However, these extremists are a mirror of the most extreme Islamophobes. Some commentators forget there are fanatical fringes on both sides and it is the responsibility of those who occupy the terrain in-between to maintain a sense of balance."
So what are the implications for Muslims in Britain? "It is important for any society to refrain from throwing the spotlight on one particular community through sensationalist media reporting and fear-mongering. After the events of September 11th, fear overtook optimism and some politicians turned this to their advantage. Multiculturalism in Britain could work well and a multi-faith Britain is to be recommended. Nobody should be made to be exactly the same or be forced into a conformity they are unhappy with and which will eventually cause them to revel against imposed norms and values in an extreme and subversive way." On the importance of Muslim identity Hollis is emphatic, "If identity and a sense of belonging is absent this leads to feelings of alienation and a sense of disconnectedness with the rest of society as is probably the mind-set of the would-be suicide bomber who lives in the West.
Add to this experience of prejudice and the person will seek a justification for who they are and who they represent elsewhere as illustrated by the few UK Muslims who fought against the allies in Iraq and Afghanistan."
Dr Rosemary Hollis is a British academic specializing in the Middle East. Since 1990 she has been working in the 'think tank' community in London and is currently Head of the Middle East Programme at the Institute of International Affairs. During the 1980s she was a lecturer in political science and international relations at George Washington University in Washington, DC, where also gained a PhD in political science. From 1975-80 she worked in commerce and the media in London. Prior to that she studied at King's College, London University, completing a BA in history (1974) and MA in war studies (1975).
Share this


Link to this
Printer Friendly