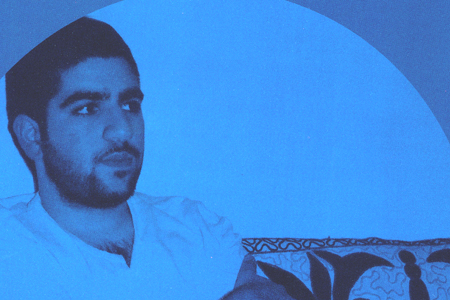 'Deen' Big Brother
Issue 3 Jan / Feb 2004
Earlier this summer, the channel 4 reality TV programme Teen Big Brother hand-picked eight 18 year olds from thousands of teenagers across the country to spend 10 days as Big Brother housemates in that infamous house.
This unique experiment was commissioned by Channel 4's educational unit, as a daytime series for teenagers. But how educational did it prove to be for the first ever Muslim Big Brother contestant? Nauf Al Riyadh finds out.
"I went in for a laugh," breezes 18 year old Hasan. "I just thought it would be a joke. It wasn't because I wanted to learn about myself or because the experience would be at all profound, it was just for fun- and I did have fun…I think!" But that was not quite the opinion of the teenager's father. "I did not know anything about it until the last minute. If I did, I would not have approved."
A-level student Hasan is a Kashmiri born in England. He is a practicing Muslim, and as the media refers to over and over again with amazement, prays five times a day. "The funniest and the most flattering thing I read about myself is when the media kept referring to me as a devout Muslim. It is such a big compliment because it is what we aspire to, and I suppose I do represent young Muslim guys in the UK, although I don't think I would claim to be anywhere near as devout as they portrayed me to be."
Channel 4 television and Endemol, the Big Brother production company, stated they chose a diverse spectrum of individuals from different backgrounds, cultures, religions and race. But was it that varied? "to some extent our group did represent Britain as a whole," concedes Hasan, "but I like in London, you see, and I have friends from so many different places, so for me it would be strange not to be surrounded by such a diverse mix of people".
Hasan pauses a while when asked why he thinks he was selected. "As far as I know we were chosen because of our personalities. We are loud and we definitely look food on TV!" he joked. My friends all make fun and say things like, 'you really looked good on TV. How come you don't look like that in real life?' You have to remember basically this is entertainment. It is television, so they were looking for entertaining people but perhaps there was a motive to throw a Muslim guy in the mix. No sinister agenda, but from a 'controversial, first-time-that-happened' perspective."
Over the course of 10 days, the housemates were enclosed in a house without any contact with the outside world except conversations in the 'diary room' with the all-knowing Big Brother. They had to put up with each other's habits, attitudes and personalities and learn to live as a group, taking consensual decisions and practicing tolerance and maturity. They also had to undertake tasks that would challenge them physically, emotionally and intellectually. "I am not naïve. I went in expecting to be faced with things I do agree with and things I don't agree with. I knew there would be moments where I would feel uncomfortable with the situation; I was prepared for that."
And such a situation arose almost immediately when Big Brother decided that both the male and female members of the house would be sharing one bedroom. "I was actually alright it because I knew nothing would happen!" said Hasan. "But I had to convey a message to my father and apologize to him. Family comes first and if he really didn't like it then I was ready to out the very same day, even though I had only been there a few hours."
The group quickly got to know each other and like each other – sometimes a little too well as was notoriously witnessed – and dislike each other, sometimes a little too exuberantly. But was their attitude a reflection of their age or just a common development between people when they live together for a while? Hasan's father was not impressed. "I thought the language was terrible. I don't know where they got them from. They are definitely not typical 18 year olds!" But Hasan is more philosophical. "I expected some of the people would be eccentric. That is what you get on reality TV! But I always made sure when I interacted with the group I had a smile on my face. I wanted to make the most of the experience and convey a positive image of Muslims. It is not being a hypocrite, it is being polite!"
Hasan developed sincere friendships with some of his fellow housemates. "I think the person I got along with the best was Tommy." Tommy was visibly upset when Hasan left. "We became mates fairly quickly and I think it was for the simple reason we went into it relaxed, cool and chilled. Like I said, it was just for a laugh and I think Tommy went with that mind-set as well. As for some of the others, they took things way too seriously and got in a little too deep, saying emotive things about people they barely knew. That made no sense to me. I was of the opinion we were in the house for just a little while, so why don't we all just get alone."
The housemates' discussions were notably frank and explicit. Within house of entering the house the group had already covered teenage pregnancy, relationships, polygamy in Islam, racism and homosexuality. The producers of the show had no doubt spent hours dreaming of the fireworks arriving from a debate between Hasan ('the Muslim guy') and hair dresser Paul ('the gay guy') over these issues. But they were disappointed as Hasan maintained his cool, patiently and sensitively explaining his views. "It can be constructive to talk about these matters as long as you are not being vulgar about it," suggested Hasan, "because you always end up educating each other." Tension did arise however, when some racial terminologies were employed. "I find that quite scary when we talk about others in that way and find it completely normal. But in the end it was cool. Those involved understood they had been offensive and apologized immediately."
When Hasan was voted out by the other housemates he confessed that he was shocked that only two people wanted him to stay, but he is not about to lose any sleep over it. "I leveled with them somehow and I even built genuine friendships with others," he explains, "but I wasn't going to compromise my beliefs for anybody. There are major gulfs between my lifestyle and theirs, so to that extent maybe I was a little too different for the show."
"The producers of the show had no doubt spent hours dreaming of the fireworks arising from a debate between Hasan the "Muslim guy" to hair-dresser Paul the "gay guy" over these issues."
Share this


Link to this
Printer Friendly