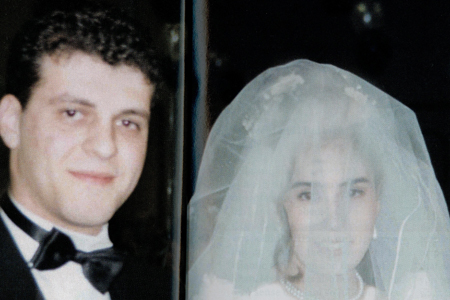 Mensur and Nese
Issue 3 Jan / Feb 2004
Nese: I met Mensur in October 1991 purely by coincidence. I was only 17 at the time and my friend noticed him first. Really, I have her to thank for getting us together. We rarely saw each other but we became friends and the more I got to know him the more I liked him. He had quite a troubled background, coming from a broken home and eventually being brought up by a wealthy English family but he was always so level –headed and came out remarkably well considering all he had been through.
It was 8 months later that I realized he was the man I wanted to marry. The difficult part was telling my parents. We are Turkish and he is half Cypriot so it was difficult to get them to agree, even though Mensur is a Muslim. I have always been very close to my mother and did not want to keep it secret so encouraged her to meet him. She was reluctant in the beginning, however the moment she met him she warmed to him. My father is a stubborn man and was much more difficult.
It was a year after we met that Mensur proposed – not in the restaurant where we had just had a meal, but in the life of all places! A year later we performed what in Turkish tradition is called the "Word" which means that we are promised to one another. At the Word the family of the groom-to-be officially asks permission from the girl's family for their son to marry their daughter. If all goes well rings are exchanged and gifts given to each family.
My father reluctantly attended my Word and you could have cut the atmosphere in the room with a knife! When Mensur's family asked permission he murmured that it was "up to his daughter and his wife" and he walked out shortly after the exchange of the rings. I was so upset at his disapproval and continued to try to persuade him that we were serious. His concern was that Mensur was half Cypriot. Also, I was still studying and he was adamant that marriage and university were not compatible and that I would eventually drop one or the other. As it happens I was awarded an excellent degree.
We were married in November 1994, three years after we met. The whole wedding process lasted three days over three. My father did not attend at all.
The first day was our registration. A week later female family and friends enjoyed a night of dancing and eating. Henna was applied to the palms of my hands and I had two changes of clothes during the evening. One was an evening dress and the second a traditional costume. As the bride-to-be I walked in with a scarf over my head and sat in a chair amongst a chant of songs, which was intended to make me sentimental about leaving my family. I was led by unmarried young women paired off by holding lighted candles as is the tradition. Friends were checking under my scarf to see if I was crying, but I wasn't. I found the whole process quite amusing.
At the end of the night, in keeping with the traditions of Burse in Turkey from where my family originate, my girlfriends and I went to the house of the groom's family where a roast chicken was prepared and wrapped up for us to collect. After collecting the chicken we arrived back home in a convoy of about 3 cars and sat down to feast upon it. Weddings are a big occasion in Bursa and the whole street gets involved. When I woke up the next morning having stayed up late nattering with the girls, I found that they had drawn all over my face!
The following week was my wedding day. I had eight bridesmaids and when we entered the hall Mensur and I circled the centre three times with the traditional drum and flute player.
Money is pinned on the bridge and groom by way of presents. We also included the Cypriot tradition of dancing while holding a clay urn. This is full of sweets and money that is eventually thrown on the floor and smashed for the children to devour. Afterwards we went home and the religious ceremony took place in the presence of three witnesses.
Our relationship with my father improved within a year. He accepted the situation and started to like Mensur the more he got to know him. He deeply regrets being so stubborn and I have forgotten all the heartache of those early days.
Alay was born 4 years into our marriage and he added a new depth to our relationship. We are all individuals and compromise plays a big part. Like every couple we have our ups and downs but it is important to respect one another and listen to each other. Mensur and I have found that the respect we have from one another brings with it love.

Mensur: We met one a street corner in the autumn of 1991. Not the most romantic of places to meet your future wife but it was definitely unusual and the making of an interesting story.
I noticed Nese almost immediately and I remember thinking that she seemed very sweet. We hit it off straight away and got to know each other. It wasn't long before I realized that my life was being given new meaning now that she had become a part of it. I had some difficult experiences in my childhood but these became distant memories after I met Nese. She is an extremely positive influence upon me and has helped to make me what I am today.
I knew I wanted to marry Nese because we seemed so compatible. However, I also knew that it was not going to be easy due to our different backgrounds. It was always going to be hard for her family to accept me because I was Cypriot Turkish.
Most of her family came round eventually to the idea of us getting married but it was Nese's dad who proved the most adamant that it would not work and he refused to give us his blessing. I made a huge effort to reassure him that my intentions were genuine and that I would be a good husband to his daughter but he was not interested in meeting me or getting to know me at all. It was very hard on N3se to be the cause of such upheaval in her family and I hated to see how upset it was making her, but there was little either of us could do.
He did not even attend out wedding which was a shame but we were both determined to enjoy the day anyway, which we did. Things are very different now. Nese's father realized how happy we both were together and his fears were gone after a while. He came to accept me as his son-in-law and we were on talking terms within a year of our marriage. Now we have a good relationship.
I enjoyed our wedding. It was done in the traditional style and more importantly it was great to finally be married. Before we were married we had not been able to see each other often and every time we did meet it was always hard to say goodbye.
The birth of our son in 1998 was something I will never forget. Seeing him for the first time was amazing. It really showed me what was important in life. What matters to me is having a loving and happy family. That is what makes me content.
Share this


Link to this
Printer Friendly