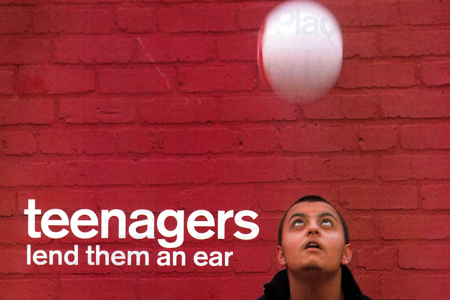 Teenagers lend them an ear
Issue 3 Jan / Feb 2004
If some of the young people in Neighbours are accurate manifesta-tions of their real-life counterparts, a day in the average teenager's life would start with a rushed breakfast and an ever-depressing journey to school. During the youngster's lessons,. He or she will gaze dreamily across the classroom at the member of the opposite sex who is just not interested in them. Once the school day is over, the teenager will arrive home and pro-voke a blazing row with their parents. "You don't understand me", the parents will be told. The teenager will then storm through the house. This will be followed by the inevitable rush into the bedroom-the walls of which will be plastered with posters of pop starts- and the dive onto the bed, face down on the pillow: neglected, dejected, rejected.
Is this really today's teenagers? Are the images we see each day on our television screens and in newspapers a true reflection of their thoughts and feelings? Of the 16,000 teenagers who recently completed a BBC online questionnaire, 54% felt that young people receive a "bad press" from the establishment media of this country.
BBC Nations and Regions Director Pat Loughrey commented "One of the clearest things the survey shows us is that teens are fed up with being stereotyped by the rest of society. It was a bigger worry than school examinations"
Loughrey held the 'Kevin the Teenager' character up as the archetypal example of this stereotyping. Harry Enfield's snotty-nosed, always-trying-to-be-trendy, ever-moody creation, whose catchphrase was the droned complaint "you make me do everything", is to young people what the same comedians "the scousers" was to – well Scousers.
Nazim Tasadiq (pictured left), 16, gave us his thoughts. As we sit in the backroom of his Birmingham home and watch Scotland v Holland on Sky sports 2, he muses "young people are not very different from how they're portrayed on television." Whilst one would expect a teenager to defend "his own", Nazim feels that a significant number are indeed "fashion-obsessed, money-obsessed and too concerned about their status and reputation."
Does Nazim consider it possible that those teenagers behave in such a way because they are following in the footsteps of the television characters to which they have been exposed? Do script-writers copy them in their soaps or do teenagers emulate the characters created by writers? Nazim glances sideways, then looks skyward and appears to be in deep thought. I say "It's Kinda like the chicken and the egg. Eh?" He smiles and does not come back with a conclusive answer on this. The Scottish players sing the national anthem and Nazim watches on.
Arifa Dar, a 17-year old from Birmingham, believes that people working in the media do not always place realism at the top of their wish-list. After graciously rushing home from night-time prayers at the mosque for our meeting, she tells me she has begun to watch television less. She then digresses and tells me that the men at the mosque- "they stress me out"- had on one occasion during Ramadan eaten the women's share of the good iftari food. "They only left the kiwi fruit," she complains. I tilt my head sympathetically as If to apologise for my fellow males' lack of manners.
Arifa moves the interview forward. She explains that many in the media world-television in particular- have their own priorities which supersede concepts such as fairness and accurate: viewing figures, for example.
"They (script-writers) are always looking for bad things to focus on," she says. "The majori-ty of us young people do have purpose in our lives, but mistakes can often be blown out of all proportion by others.
Arifa also puts forward another theory. She believes that society often perceives "good" people as boring, citing "Big Brother" and soap operas as an example. "It is usually the meanest people who are the most popular. Writers seem to think there is not much that can be done with good people."
One can certainly see the point the young lady is making. After all, the return of legendary bad guy Dirty Den sent Eastenders viewing figures through the roof earlier this year, whilst Nasty Nick is perhaps the most famous of all Big Brother personalities. If Arifa's surmises are correct, perhaps they explain why we don't see any practicing Muslims in Eastenders.
When one is immersed in assessing young people and the values which they hold dear, one could do worse than to ask them who their heroes and heroines are. With this in mind no doubt, the BBC also asked teenagers who it was that they most repected and admired. The polls were topped by pop singer Christina Aguilera. She was followed by foot-baller David Beckham.
At the mention of Aguilera, Arifa fidgets with her hijab slightly before looking down at her feet and shaking her head visibly. She clearly thinks Aguilera unworthy of a young person's adulation. Looking dismayed and displaying the mother - or should that be the sister? - Of all frowns, she does not hold back "You Know, I think that's pathetic and stupid. Those kinds of people have no life away from TV," she blasts. Hey Arifa, why don't you get off the fence and tell me what you really think?
So who is Arifa's hero? Who does she look up to? Without hesitation, Afrifa swivels to her left and looks at her older sister Sadiqa who is sitting next to her on the sofa. "I'm not saying this because she is with me now but my sister is my hero. She is the first person from our family who studied at University. Whatever I know about life is from her too". Sadiqa, 23, leans forward towards her sister, gives a slightly embarrassed chuckle and says "Look, I've got tears in my eyes." Although Arifa then killed the moment somewhat by adding "Oh, and she buys me clothes."
Of the former Manchester United star Nazim says "I admire Beckham. At least he's a family man." Even though this may seem at first glance an extremely understated compliment, it is really is quite a tribute to the Real Madrid player. Nazim is a long-suffering Liverpool supporter and complimenting Beckham is the Liverpudlian equivalent of the cardinal sin. He then raises the level of the conversation, adding that nobody compares to the Prophet Muhammad.
This brings us neatly onto one of the most famous of the Prophet's sayings "To God, all people are as equal as the teeth of a comb." Muslims have often interpreted this to be a warning against possible separating factors in society such as race, status or wealth. It is correct that the Islamic way vehemently chal-lenges racism, bigotry and social arrogance. But let us not forget that age discrimination can also damage the cohesiveness of a nation. As such, it is disappointing when large numbers of people within our midst feel unappreciated and neglected.
Only 13% of survey participants felt that society values teenagers: this should worry all people who care about the young from whatever comm-unity. The prophet also said "Whoever does not have respect for the elders or mercy for the young, he is not one of us." The Islamic way of life dictates that the world "mercy" is forever married to the world "justice." We should bear in mind that to taint one age group with all-bad characteristics is to be unjust, just as burdening them with expectations which they will struggle to reach would be equally unjust.
So what is the solution? Surely mercy and justice both lie somewhere in between these two extremes. As Nazim said, some youngsters are as the media portrays them. As Arifa noted, this is often related to the motives of those who pull the strings. We must always remember that teenager-related issues are as complex as teenagers themselves. For all their questions and head-liner results, surveys can usually do no more than point the way to answers. Surveys should be viewed as advisors rather than as dictators, useful without being all-encompassing.
To find out the real story about teenagers, one must look beyond surveys after one has looked into them. The world must do young people the courtesy of speaking to them directly. This way, there is a greater chance of improving their own lives and the world around them. If we lend them an ear, they may sing a song. God willing, they'll try not to sing out of key.
For many teenagers 'fitting in' becomes all-important as we develop a more acute sense of self, explore our identity and seek to make sense of our thoughts and ideals. Nadia Hawa describes how young Muslims can organise themselves and establish vibrant support network and Islamic social scene.
Whilst studying at Royal Holloway university I joined a group of young girls aged between 11 and 25 who gather every Sunday for discussions and social activities. I soon realised the value of this forum where young Muslims can learn about Islam in a welcoming environment with girls of their own age.
I formed deep friendships and had great fun organising picnics, sporting activities and outgoings, also found support and solace through tribulations of university life. Islamic learning is made an enjoyable experience within the relaxed environment as each person is made to feel comfortable and encouraged to express their thoughts. I felt stronger within my faith, and this was something my non-Muslim friends appreciated and respected. Teenagers today are faced with a myriad of social pressures: drugs, alcoholism and smoking to a name a few. What are we doing in our Muslim communities to provide our youngsters with an alternative?
Rana Roushdi, an A-level student from Surrey, feels the benefits of "meeting and socialising which gives us the opportunity to relate to each other, learn and discuss Islamic issues on a deeper level. It's nice to be with people who I like, can be friends with and learn with."
During each weekly meeting, a volunteer chooses a topic ranging from social to religious issues, researches and prepares a small presentation based on the Qur'an and sunnah, and then the passionate discussion begins as topics including the rights of women, human rights, dreams and spirituality are debated.
Reem El-Amir, a former Royal Holloway maths student, explains that her reasons for attending these weekly gatherings was to "give the younger girls an opportunity to celebrate their Islam and reassure them that being different should not be an issue and there's no compulsion to conform to the majority in order to have friends and fit in."
Such circles are not exclusively attended by Muslims. A work colleague of mine began attending, and even chose to present a topic herself by researching information based on the Qur'an and sunnah. This encouraged others to bring friends from a different range of backgrounds to learn about Islam.
Such gatherings provide teenagers and youngsters with alternative social activities and the chance to increase knowledge and understanding.
Against a backdrop of political and social apathy throughout the UK, the aim is to get our youth more involved in our community affairs, more Islamically active and engaged on a personal and social level.
Share this


Link to this
Printer Friendly