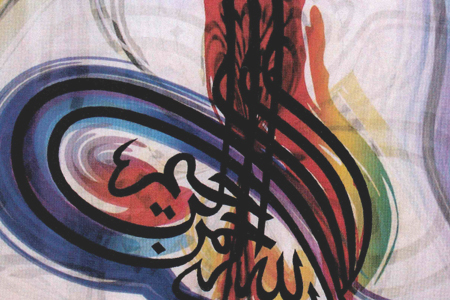 A frame of mind
Issue 3 Jan / Feb 2004
Photography Leticia Ferrer-Stuyck
Words Sylvie Do Nascimento
Calligraphy and mosaics have been long used by many people to decorate their home. Sylvie Do Nascimento finds that a beautifully framed verse form the Qur'an can be an inspiration as you glance over it when walking into a room or before going to sleep at night as it hangs over your bed.
What is less-known is that the visual impact of a picture can be either greatly enhanced or completely ruined by choice of frame. Choosing the ideal frame can transform the work and accentuate the style and mood of the room in which it hangs. But how can you be sure you have the most suitable picture frame? The following advice will help make the choice clearer.

It is important to know whether the work is most suited to a ready-made frame, a collectible antique frame or a personalised frame. Many art shops or DIY stores offer a wide range of first two types. However, if considering the last option it is necessary to put a little more thought into the framing of the work.
Good framing begins with colour and design. A visit to a framing shop or art gallery will provide inspiration. The motivation for choosing a frame is to enhance the artwork and to draw the viewer's attention to the picture while also making sure the frame is in keeping with room décor. A huge variety of moulds are available ranging from very ornate styles to plain frames which can be painted or decorated as desired.
Mats or borders can also enhance a piece of art. They can be made of a variety of materials such as paper, cotton and fabric and come in a wide range of colours. Qur'anic verses are often displayed within a border inspired by Islamic colours such as blues, greens, sandalwood and black. Mats also provide a space in which the artwork may expand and contract according to changes in humidity. Matting makes the overall size of the finished piece larger and provides the illusion of spatial expense between the art and frame.
Simple and useful tips:
- Get a friend to hold your frame in the position you intend to hang it. It will give you an idea of how it will look.
- Use a spirit level or tape measure.
- Use effective lighting to enhance your frames.
- Match the style of frame with existing ones. Consistency is preferable even if the pictures are all different.
- It is better to hang a large frame on a small wall, then a small one on a large wall.
- Make sure to use an acid-free mat to protect your work.
- Keep the acid-free jacket in which you received your print, as collectors expect this. This adds value to your print so you may wish to put the jacket behind the print.
- Limited editions should never be trimmed. They would be valueless to collectors.
- A traditional frame can look good in a contemporary frame will not be suitable in a traditional setting.
Where to get
Many ready-made frames are available in home stores.
- Habitat has a large selection of frames and stores can be found across the UK. For more information you can log onto: www.habitat.net.
- Ikea available across the UK
- Cargo, Homebase, Heals and Department Stores (e.g. Harvey Nichols, Harrods).
- These websites are offer useful tips on framing:
Framing Fantastic: www.framingfantastic.co.uk
Islamic art pictures: www.islamicpictures.com/about.html
TA_HA publishers Ltd: www.taha.co.uk
Islamic art courtesy of
www.jamilarts.com
Share this


Link to this
Printer Friendly