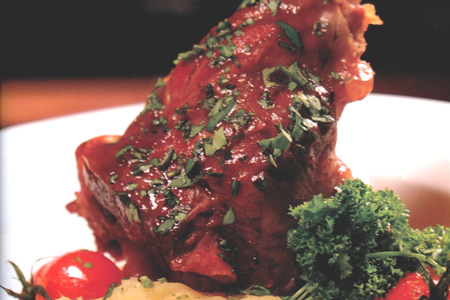 A little lamb
Issue 3 Jan / Feb 2004
Photography Taous Makhatcheva
Recipes by Ankaboot restaurant and Najma Ansaria

Lamb shoulder was a favourite dish of the Prophet. Why not attempt the following recipes, make some extra and share it with your neighbours as the Prophet recommended.

Mediterranean Lamb Shanks
A lamb dish for special occasions to really impress your guests.
Cooking time: 2 hours 45 minutes
Serves: 4

Ingredients
4 lamb shanks
2 tablespoon live oil
1 tablespoon garlic crushed
1 tablespoon shallots diced
8 oz Fire Roasted Sweet Red Bell Peppers
1 tablespoon garlic and rosemary
8 oz tomatoes diced
8 oz parsnips peeled and diced
4 oz sweet baby carrots peeled
1 ¼ cups lamb stock
1 sprinkle salt and pepper to taste
1. Heat oil in pan over medium high heat.
2. Sear lamb shanks on all sides and set aside.
3. Reduce heat to medium.
4. Add onions, chiles and garlic.
5. Saute vegetables for 5 minutes.
6. Return lamb shanks to pan.
7. Add tomatoes, garlic & herb spice and vegetable stock
8. Bring to a boil, reduce heat, cover and simmer for 2 hours.
9. Add parsnips and carrots.
10. Continue cooking for 30 to 45 minutes or until vegetables are tender.
11. Adjust seasoning with salt and pepper.
12. Meanwhile fry the finely sliced onion until golden brown and sprinkle on top of dish.
13. Serve with yoghurt and cucumber.
Lamb Fillets with Pumpkin
A mouth-watering Mediterranean lamb dish.
Serves 4
Preparation time less than 60 minutes

Ingredients
Main dish:
2 lamb fillets
vegetable oil
1 small onion, peeled and finely chopped
½ pumpkin, peeled and cubed
salt and freshly ground black pepper
Salsa:
1 red pepper
75 ml extra virgin olive oil
6 garlic cloves, peeled and chopped
6 onions pickled in balsamic vinegar
15 g or ½ oz pitted black and green olives
15 g or ½ oz pine kernels, toasted
½ green chilli, seeded and finely chopped
1 teaspoon fresh basil, chopped
Garnish:
4 baby corns
4 cherry tomatoes
15 g or ½ oz freshly grated vegetarian cheese
1. Preheat oven to 200C/Gas 6.
2. Roast pumpkin: heat half of the oil in a frying pan, add the onion and cook gently until softened.
3. For the salsa: grill the red pepper, turning frequently, until charred and blistered on all sides. Take from oven when cool enough to handle, remove the skin, core and membranes.
4. Gently pan-fry the garlic in 1 tablespoon of oil until golden, but not burnt. Remove and cool.
5. Cut the pepper, balsamic onion and olives into fine strips then mix with remaining ingredients, season and put into a pan ready to heat through for serving.
6. Brush the pumpkin slices and baby corn with a little oil and place under a preheated grill, turning once or twice, until the skin just begins to soften.
7. Place on an oiled baking tray and fan the lamb slices out slightly. Cut each cherry tomatos into three and tuck them between each slice of pumpkin. Season well and sprinkle with cheese.
8. Heat the remaining vegetable oil in a roasting tin in the hob, add the lamb fillets and cook until brown on all sides.
9. Put the meat and the tray of sliced pumpkins into the oven for 8-10 minutes, until the lamb is brown in the centre.
10. Place all vegetables on a platter and top with meat slices. Pour heated salsa over the dish to serve.
Lamb and Courgette Shourb
A simple Indian dish that involves minimal fuss.
Cooking time: 30 minutes
Serves: 10

Ingredients
4 tablespoons vegetable oil
1 baby lamb shoulder (cut in medium sized pieces)
1 large onion, sliced
1 tablespoon crushed garlic
1 tablespoon chrushed ginger
1 small tin chopped tomatoes
1 tablespoon turmeric powder
1 heaped teaspoon chilli powder
1 heaped teaspoon cumin powder
3 heaped teaspoons coriander powder
2 heaped teaspoons garam masala
1 ½ teaspoons salt
2 courgettes sliced, in half inch thick slice
A handful of coriander leaves, chopped to garnish
1. Place all the ingredients except the courgettes and coriander leaves into a pan and stir.
2. Place the pan on a high heat and bring it to boil.
3. Lower heat to medium setting and stir occasionally until meat is half cooked.
4. Increase heat and stir continuously until spices are well merged and until oil separates.
5. Add courgettes.
6. Add ½ litre of water or more depending on desired thickness. Allow to boil.
7. When courgettes are cooked through, garnish with chopped coriander leaves.
8. Serve with nan bread or rice.
Recipes and food styling courtesy of
Ankaboot Restaurant
556 Mile End Road
Green Bridge
Mile End
London E3 4PL
Tel: 020 8 983 1144
fax: 020 8 983 1146
Share this


Link to this
Printer Friendly