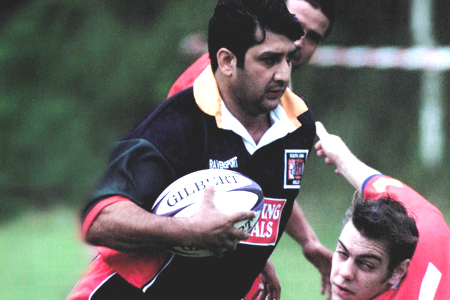 Rugby Fever
Issue 3 Jan / Feb 2004
England are the new Rugby World Cup champions. The nation have taken rugby to their hearts and, as Ferman Uddin reports, Muslims can share in this.

With a Jonny Wilkinson drop-goal in the last minute of extra-time, England were handed a 20-17 win over a game Wallaby deserved to raise the Webb Ellis Cup after the 100 minutes of drama, excitement, tries and bravery.
It was a fairytale win for the English, but a win they had to fight for until the bitter end, despite enjoying a 14-5 half-time lead. Wilkinson had done it. England had done it. Australia so very nearly managed to do it. It was a terrific Final, a terrific World Cup.
Ikram Bott, former England rugby league international and the first successful British-born sportsmen was as excited as anyone. Here he talks about his struggles and triumphs as a professional rugby player.
At 35, Ikram Butt is now the sport's development officer at Bradford council. His role is to encourage more ethnic minority participation in sports and physical activity. He says: "If kids get the chance to play, many will become interested. But if they don't ever get that chance, we'll never know their potential."
The South Asia Bulls, a unique rugby league squad comprising players from all over the country have been brought together as part of long-running campaign heralded by Ikram to bring communities together to combat racism racism in sport. He helps run coaching clinics for young people in areas with large ethnic minority populations and is convinced of the importance of such initiatives and the vital role sport can play in society.
"History shows that sport has built many bridges. It brings down barriers and brings people together. Sport is an alternative to social problems such as crime, drugs and alcohol. It gives people a lifeline to succeed in something which they are really good at.
I work in partnership with the professionalclub Bradford bulls. The club have a comprehensive community development delivery working with kids on mentoring programmes and youth offender's team. I work with deprived and disadvantaged kids. Rugby development has been a focal point in Bradford and we have helped to get many kids off the streets deterring them from crime. We have helped them to come away from drugs and violence which is an acute problem in places like Bradford and other areas.
Selectors have recently been choosing the team to represent India in the All-Asia Games to be held in Hong Kong in November 2004. The trip to India is part of our ongoing efforts to promote social and cultural cohesion and religious tolerance, and we're hoping to forge further meaningful partnerships during our visit.
My father was my biggest role model. He gave support and obviously being a sportsman himself we used to watch him complete in boxing. My father bought us boxing gloves so we were introduced to the physical environment sport at an early age. My role models in this world stage are Muhammad Ali and Imran Khan. Although he was a cricketer I think he was a role model who inspired a lot of people in the UK including me.
There is a lack of Muslim representation in sports across the world. We see now on the international stage for example Zinedine Zidane, a Muslim French footballer. Prince Naseem has opened many doors and encourages more Muslims to take part in sporting activities. These are our role models now, and if they can do it so can everyone else.
When I was younger, I supposed Pakistan in every sporting event because of the racism I suffered. I never felt as though I belonged, not until I pulled on an England rugby league shirt, anyway. That was a proud moment for me and my family. Ask me now and I'd say I support England. My roots are here and I want to build a good future for my children.
Parental attitudes can be an obstacle to progress. Though not as much of an obstacle as the racism and cultural discrimination from sporting bodies. My father boxed in the Pakistani air force at a time when we were young kids. I think that is where we get our sporting blood in us in our genes. There was a lot of young Asian players with us, my colleagues playing the game were discouraged by their parents, I think it was a lack of knowledge and in particular, I think parents were frightened that their child maybe be deterred away from the religion or culture.
I was fortunate to have excelled in all sports including football, basketball, cricket and rugby. I suppose once you're a sportsman you can move from one sport to another. Weighing up all the options rugby was the most natural to me.
We need to encourage Muslim parents to motivate their children in taking part in sporting activities and excelling in sports. I would be comfortable to nurture my children all the way to the top because I have that experience and knowledge which I have attained throughout my career. Although, as Muslims we have to make sure that we are within the perimeters and boundaries of a particular sport, in Islam.
I believe regardless of background, Muslim youth must have the desire, determination, self-belief, and have faith in Allah. To succeed in times of difficulty we must remember the Prophet's teaching of seeking help through patience and prayer."

Share this


Link to this
Printer Friendly